Basehor family seeks home for cat found in the cold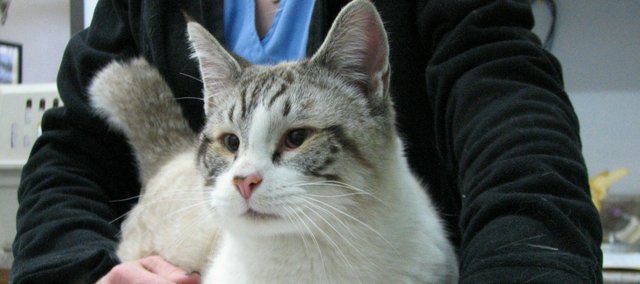 Basehor — The cat came running with the sound of Kristie Warhurst's voice.
Some green gunk had clogged one of its eyes, but the small male cat warmed up immediately to Warhurst when found Wednesday night in Warhurst's parents' yard off Hollingsworth Road. He didn't know she was looking for him until he heard her voice, Warhurst said.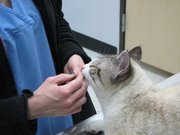 "He came right up to me, just wanting to be petted," Warhurst said Friday morning at the Basehor Veterinary Clinic.
Warhurst, along with her sister Jamie Oberg and their parents, are trying to find the owner of the cat or a family that could adopt him. The sisters' parents have two large dogs that make adopting the cat themselves impossible.
A veterinarian at Basehor Veterinary Clinic, 15510 State Avenue, on Friday told the sisters that the the cat appeared to be 18 months old and is not micro-chipped or neutered. The vet gave the cat a shot with antibiotics to help fight what appeared to be a viral infection troubling its eyes. Oberg said the extreme cold weather over the past week likely made the infection worse.
In just the two days Warhurst and Oberg had been keeping the cat, his eye had improved greatly. The vet said the cat is not blinded by the infection but does have slightly crossed eyes.
The only thing the cat has not liked about the company of Warhurst and her family appears to be the small carrying cage they found for him.
Oberg reached out to the Basehor Sentinel Wednesday night, looking for the owner of the cat, and a Thursday morning post on the Sentinel's Facebook page has already seen some people offer to adopt the cat.
Anyone interested in adopting the cat can message Oberg on Facebook at https://www.facebook.com/jamieoberg.