KanCare, insurance struggles raise questions for Basehor family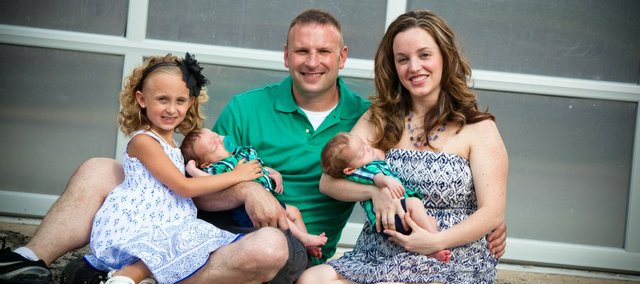 How to help
An account has been established at First State Bank and Trust to help fund surgeries for Blake and Lance Tranckino. Donations also can be made at youcaring.com/BlakeLance
Blake and Lance Tranckino keep their parents, Karla Holton and Vic Tranckino, quite busy.
Blake and Lance are identical twins.
They were born 8 months ago, about a month ahead of their due date. The brothers each weigh about 22 pounds and measure 28 inches in height. They're near the 80th percentile in size and height, their mother says.
But at 2 months old, they were diagnosed with craniosynostosis, a birth defect in which joints between bones in a baby's skull close prematurely. That prevents the child's brain from growing properly. The fused bones must be separated in surgery.
"It's not elective," Holton explains. "Not cosmetic. It's mandatory."
The couple joined KanCare, the program through which the state administers Medicaid, in July. Holton worked as a nurse at an orthopedics office, but opted to become a stay-at-home mother to care for her children, which left the family without insurance coverage through her job.
"My whole paycheck would have gone to paying daycare," Holton says.
The family and Holton's parents, Terrence and Louise Holton, of Tonganoxie, shared their story at a Saturday legislative forum in Tonganoxie in hopes of finding more options for Blake and Lance.
Locally, Children's Mercy Hospital and Kansas University Hospital provide a form of the surgery, Holton explained, but there's a specialist in Dallas who does the procedure twice a day. Surgery in Texas would be more invasive, which Holton said could better detect any other health issues beneath the skull.
The problem: KanCare would only cover procedures at Children's Mercy or KU Hospital. Surgery in Dallas, out of pocket, would be $50,000 per child, all due before the procedures.
Sen. Tom Holland, D-Baldwin City, one of four legislators at the event, said he had heard complaints from other constituents about KanCare. The program administers care to more than 360,000 consumers across Kansas, according to its website, kancare.ks.gov.
Speaking with Holton and her family after the event, Holland suggested looking into health care exchanges through the Affordable Care Act, commonly referred to as Obamacare, as well as contacting Insurance Commissioner Sandy Praeger about other potential options. Holland told the family he would check with colleagues for any other recourse.
Holton, meanwhile, said she and her husband would continue to search for coverage so that Blake and Lance can have surgery in Dallas.
Vic also has a daughter, Kylie, 6, who lives with the couple. He continues to work for a small tow truck operation as Holton stays with the children while studying to be certified as a medical transcriber, a job she can do at home.
"I do feel like there's some encouragement there," she said after Saturday's forum.