BLHS

boys host inaugural alumni game
Photo Gallery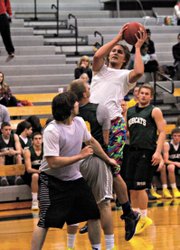 BLHS basketball alumni game
Eleven Basehor-Linwood basketball alumni returned to the Bobcats' home gym for the program's inaugural alumni game Friday.
Basehor-Linwood basketball players of old recently got the chance to reunite on in the gym they once called home, as the Bobcat boys team had its inaugural alumni game Friday.
Eleven graduates dating back to the class of 2005 — many of which played on the school's 2009 and 2012 state championship teams — scrimmaged against current varsity players for six 10-minute periods. Several spectators filled the stands for the event, which was organized by coach Mike McBride.
"I was very happy in the sense of getting some old kids back in here," McBride said. "It's fun to be around kids you haven't seen in a long time."
McBride, now in his 10th season as BLHS head coach, said he'd like to see the future events include graduates from classes before his tenure as head coach, including alumni from Basehor and Linwood high schools.