Kelley's Grille and Bar stands test of time in Basehor
Basehor — Bill Buchholz estimates, confidently, that he can greet more than three-quarters of the people who walk into his restaurant by their first names.
Many of those customers, who often have a favorite table, may even be brought their favorite drink or have their usual order in before server Tracey Tripp-Smith ever makes it to their table. Tripp-Smith has worked at Kelley's Grille and Bar, 15540 State Ave., since Bill and Diane Buchholz bought the business in 1995.
Tripp-Smith says she "came with the building." Kelley's has stood the test of time in Basehor, where a number of restaurants have failed to ride the recession wave successfully, she says, because of close relationships with customers.
"We share basketball stories and sibling stories," Tripp-Smith said. " We treat everyone like family."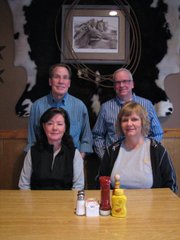 Kelley's has been under the Buchholzes' ownership for 17 years now. In December, they repainted the building a burgundy color, abandoning its longstanding shade of green. The Buchholzes also plan on adding a new awning early this year.
Bill Buchholz said that although sales have dropped because of the recession and the long list of restaurants built at The Legends, the Basehor restaurant has survived because of the loyal community.
"We've got a great core of people that come in here," Bill Buchholz said.
And it's not just Basehor residents who dine at Kelley's. Diane Buchholz said they have regulars from Leavenworth, Tonganoxie, Kansas City, Kan., Shawnee and even London.
John Daniels of London, Diane Buchholz said, always orders a Hawaiian chicken sandwich whenever he visits family in Basehor.
"He says he gets it because he can't find pineapple anywhere in London," she says.
Kelley's has maintained its longstanding daily menu specials, including its $9.99 8 oz. sirloin and filet steaks on steak night, plus a long list of homemade items like meatloaf, pot roast, honey-baked chicken and fresh baked pies.
The most popular thing on the menu, however, might be the made-in-house ranch dressing.
"We probably go through 10 gallons a week of that stuff," said restaurant manager Howard Hall.
Hall, who has known the Buchholzes for 30 years and has managed the restaurant for 13, said Kelley's connection to the community comes from its staff. Like Tripp-Smith, many of the people who work at Kelley's lived, or have lived, in Basehor.
The Buchholz's daughters worked at the restaurant, as did Tripp-Smith's son. Tripp-Smith said the restaurant has always hired local teens looking for work.
"Bill and Diane are so helpful, especially with kids that are trying to pay their way through school," Tripp-Smith said.
The Buchholz's are looking forward to a 2014 with much of the same neighborhood connection and some new items on the spring menu. And as much as people may know Kelley's for its steaks, onion rings or ranch dressing, it has always been a place where you can catch up with someone you know.
"People are here sometimes an hour after they finish eating," Bill Buchholz said, "just talking to people they know."