BSHS

girls win, boys fall against Tonganoxie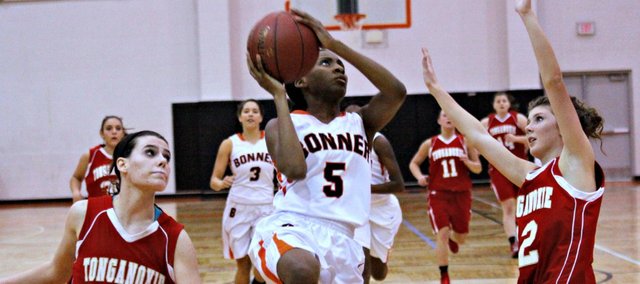 It wasn't the prettiest performance and it wasn't without moments of panic, but when the Bonner Springs girls stepped off their home floor Tuesday night, they did so with a victory.
The Braves stretched a two-point halftime advantage to nine in the third quarter, then hung on late for a 55-47 win against Tonganoxie.
After shaking a slow start to take a 25-23 lead into the locker room, BSHS (6-2, 4-1 Kaw Valley League) gave itself some breathing room when it extended its advantage to 41-32 by the end of the third. The Chieftains (2-4, 1-4) made things interesting down the stretch, forcing several turnovers and getting within five points on several occasions, but the Brave defense did enough to keep the lead intact until the final buzzer.
"There was never a time when I felt comfortable myself, and I don't think they ever felt comfortable," coach Clay Oakes said. "Tonganoxie did a great job of pressuring us the whole game, and we didn't respond very well."
Oakes' squad grabbed an early 4-0 lead in the first quarter, but Tonganoxie responded with a 12-2 run and led by three at the end of the period, 14-11. The Braves tightened up defensively in the second quarter, allowing just nine points. They capitalized on offense, going back in front midway through the period, and never relinquished the lead again.
The victory — the team's fourth in five games — wasn't without its blemishes, as the Braves committed 23 turnovers and went just 21-of-56 from the field. However, they handily won the rebounding battle, 51-24, and came up with second-chance points in the paint.
"One of our focal points for the last week has been winning the rebounding war inside, and we've done a good job," Oakes said. "When shots aren't falling for you, those second-chance points are the difference between winning and losing."
Kaleigh Taylor led the Braves with 13 points — 11 in the first half — while Julianne Jackson added 10. Tonganoxie's Kara Banks paced the Chieftains with 13 points.
BSHS will continue league play Friday when it travels to Class 5A Mill Valley. The girls game is set for 5:45 p.m.
Score by quarters
Tonganoxie 13 15 10 24 — 62
Bonner Springs 16 10 15 13 — 54
Individual scoring
TONGANOXIE — James Grizzle 4-5 5-6 13, Tyler Ford 3-6 6-8 13, Jack Dale 2-7 7-12 11, Jared Sommers 4-4 1-4 10, Ben Johnson 4-8 1-4 9, Brady Swedo 1-1 0-0 2, Eric Tate 1-1 0-0 2, Carl Hecht 1-2 0-0 2.
BONNER SPRINGS — Brenden Dotson 4-11 3-4 12, Jordan Jackson 3-7 0-0 9, Devante' McGee 2-3 2-2 7, Joshua Adams 2-2 1-1 5, Antonio Roark 1-2 2-2 5, Travis Dooley 2-7 0-0 5, Jonah Freese 2-6 0-0 4, Aaron McGee 2-10 0-0 4, Zshavon Dotson 1-3 0-0 3.
TONGANOXIE BOYS 62, BONNER SPRINGS 54
Bonner Springs entered the fourth quarter with a three-point lead, but a late surge by Tonganoxie proved insurmountable in an eight-point loss.
The Braves (3-5, 1-4 KVL) trailed by two at the break, 28-26, but battled back to go in front at the end of the third, 41-38. However, Tonganoxie (3-3, 2-3) scored the first nine points of the fourth and led by at least two possessions the rest of the way.
"They came right at us and punched us in the mouth, and we didn't stand up to it," coach Dan Streit said. "We just let guys go by us, so a lot of it was being lazy."
A fast start gave Streit's team a 7-0 lead in the game's opening minutes, but THS scored the next 10 for its first lead. The Braves responded and took a 16-13 lead at the end of the first quarter, but once again, the Chieftains had an answer. They used a 10-5 run in the second quarter to go in front by two possessions and didn't trail again in the first half.
The loss was the Braves' third straight and their fourth in five games. They have scored more than 60 points just once during that span.
"We've really got to focus here on out on running a true offense," Streit said. "At times, we're too busy trying to freelance and play rec ball, so that's what we've got to get down. I think our defense is decent, but offensively, we've got to find a way to get the ball in the hole."
Brenden Dotson led the Braves with 12 points. He was the only BSHS player to reach double figures. James Grizzle and Tyler Ford led Tonganoxie with 13 points apiece.
Score by quarters
Tonganoxie 14 9 9 15 — 47
Bonner Springs 11 14 16 14 — 55
Individual scoring
TONGANOXIE — Kara Banks 1-4 11-15 13, Katelyn Waldeier 5-8 2-4 12, Tressa Walker 3-5 2-4 10, Emily Soetaert 2-4 5-7 9, Sarah Ahart 0-1 3-4 3.
BONNER SPRINGS — Kaleigh Taylor 6-8 0-0 13, Julianne Jackson 3-14 4-6 10, Kyliea Jarrett 3-3 1-4 7, Miyah Hightower 1-1 4-4 6, Caitlin Reed 2-5 2-3 6, Abrise Sims 2-3 0-0 4, Mikaela Bennett 2-9 0-0 4, Allie Ledbetter 1-2 0-0 2, Morgan Lawrence 1-2 0-0 2, Tanya Hernandez 0-2 1-3 1.