Basehor-Linwood teacher receives Educating Excellence award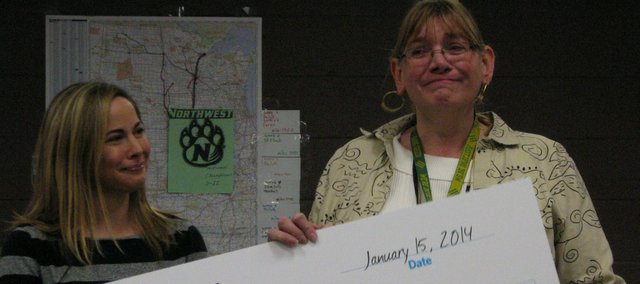 Basehor — The only hint Kirsten Rhoads got about the award she was due to receive Wednesday morning at Basehor-Linwood High School was her husband sending her off with the words, "You're going to have a great day."
A few hours later, Rhoads, who teaches college chemistry, physics and principles of engineering at the school, walked into the high school library to a room full of her students and a huge surprise.
Members of both the Shawnee company Perceptive Software and the University of Kansas School of Engineering presented Rhoads with a giant check for $1,500 and a brand new Lexmark printer.
Each academic year since 2010, the Educating Excellence program has distributed $13,500 in awards. Awards are given monthly throughout the school year, with recipient's selected based on nominations submitted by their co-workers, students and members of the community.
"The program is a way for us to recognize those teachers who are going above and beyond to make an impact in the lives of students," Lucy McGilly of Perceptive Software said at Wednesday's award presentation.
Rhoads teared up when she realized the significance of what was happening. Students from several of her classes had packed the library to celebrate with her.
"You guys mean so much to me," Rhoads said. "I can't thank you enough."
There to watch his former teacher was 2010 BLHS graduate Cole Bittel. Bittel was Rhoads' student for two years and is now a mechanical engineering student at KU.
Two years ago, Rhoads spearheaded a new class project called the Super Hero Physics Project, and Bittel was one of the first students to work on it. For the project, students chose super heroes to conduct physics experiments on to see whether their super powers were feasible in real life.
Bittel chose Batman, while classmates chose heroes like Spiderman and Superman.
"It was really cool to see physics in something interesting like comic book characters," Bittel said. "I think that's a true testament to her teaching ability and her ability to connect with students."