Mistakes cost Mill Valley boys, girls as both fall to Basehor-Linwood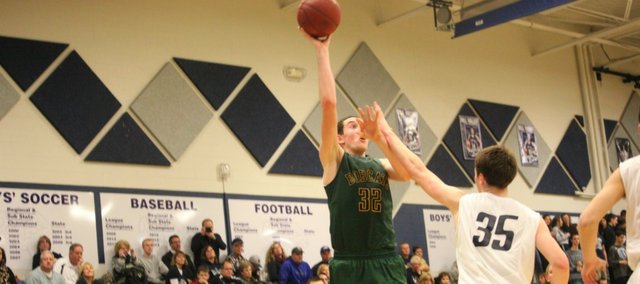 Pat Muldoon made his return to Mill Valley High — a school the junior called home for two years — on Tuesday night and hung 21 in Basehor-Linwood High's 63-57 victory.
Muldoon said he had a lot of thoughts running through his mind and plenty of energy.
"I think I came out a little out of control in the first half, but my team backed me up and told me to calm down," Muldoon said.
Muldoon scored the first basket of the game — a three pointer from the right wing — and added six more points in the first quarter, before being held scoreless in the second quarter.
Mill Valley (3-4, 3-2 Kaw Valley League) led by four after eight minutes and by one at the half, but that's when everything changed.
"We hit a couple of shots," BLHS coach Mike McBride said of the third quarter. "We relaxed. God, we were tight tonight."
The Bobcats (6-1, 5-0) opened the third on an 8-0 run in the first three minutes, eventually pushing the lead to 11 with 42 seconds remaining in the period.
MVHS coach Justin Bogart said his team couldn't overcome four turnovers in the quarter.
He also said a sequence in the fourth quarter, with the Jaguars down four, killed any chance of a comeback. MVHS had forced a BLHS turnover, but Ben Carroll took a rushed three on the other end.
Carroll, who had six points, did make two big threes in the third quarter to give MVHS a bit of a spark after it trouble scoring a field goal for six minutes.
"He's got a good stroke, he just needs to find some confidence," Bogart said. "Those two threes he hit got our emotions in the right place. He's a senior and he's running out of those opportunities to do that."
With BLHS up four, McBride didn't think the game was slipping away, despite the Bobcats having a good energy level.
"I thought we were giving it away," McBride said. "We were making terrible decisions in the fourth quarter. We can't make those mistakes if we plan on winning the state championship."
It didn't help that BLHS went 18-for-35 from the free throw line.
"Who would have ever thought Chase Younger would go 0-for-6 from the free throw line," McBride said. "It's better now than the end of the year.
"We talk about all the time that layups and free throws determine how focused you are in a game. I'm not sure we had much focus tonight," he added.
Logan Koch scored 14 for Mill Valley, while Drew Boatwright added seven.
Wyatt Voorhes led all Jaguars with 15 points, but left the game with 5:04 remaining in the game after going down in front of the Mill Valley bench with a left ankle injury.
He left the school on crutches and his ankle iced.
He initially was injured Dec. 18, against Raytown South High at Avila University, and then he reaggravated it on Jan. 7 against Lansing, forcing him to sit out Friday against Bishop Ward.
"The ankle needs a little rest," Bogart said. "We play Friday and he's probably doubtful. We've got about a week off between Friday and our tournament. That's going to give him an opportunity to get healthy."
Bobcat girls pick up signature road victory
Victoria Smith was a 10-for-10 from the free throw line as she helped Basehor-Linwood High past Mill Valley High, 48-43.
Smith, who finished with a game-high 16 points, didn't score a field goal until the third quarter, but coach Jason Tatkenhorst made sure the Lady Bobcats (6-2, 4-1 Kaw Valley League) looked to her in the post.
"I liked it when the team concentrated on getting the ball to her (down low)," Tatkenhorst said. "When Mill Valley made a run at us in the second quarter, we kind of got away from that and it showed.
"We paid attention to her, which made Mill Valley pay attention to her."
Mill Valley (3-4, 3-2) coach John McFall said Smith didn't do anything he had told his girls.
"If you foul her, you're going to pay a price," McFall said. "There's a rule in basketball that says you can't guard a free throw. Sometimes, I think we forget that."
BLHS led by one after eight minutes, but darted out to an eight-point lead three minutes into the second quarter, but that's when Smith stopped getting touches on the ball.
The Lady Jaguars made a run to cut it to a one-point game at the half. The teams traded buckets in the third quarter, but MVHS held a one-point lead.
McFall said his team has answered everybody this season except Blue Valley Northwest High.
He said his team never grabbed the momentum; that it was never up by three or four and felt like it was pulling away.
"It needs to hurt," McFall said. "I'm not saying that to be brutal, but it needs to hurt when you have a game you could have won and you let it get away."
Tatkenhorst, who said his team is intimidated to play at Mill Valley, thought this was a "great win" for the program, especially winning on the road against last year's 5A runner-up.
Alex Gorman sank two free throws to extend the lead to four with 21 seconds left, and then Marriah Clayton hit two more with five seconds left to seal the game.
"It was good to see, because I hope everyone realizes, 'If they foul me, I can step up there and hit free throws like anybody else,'" Tatkenhorst said.
Amber Garver scored 10 for Basehor-Linwood, while Gorman added seven and Madison McDowell had six.
Carly Eaton and Jabria Leggett each scored 11 for Mill Valley.
BLHS heads to Lansing on Friday, while Mill Valley hosts Bonner Springs High. The girls are scheduled to tip at 5:45 p.m., with the boys following after.