Nirschl, Hopper lead Bobcat wrestlers to title at Dick Burns Mat Classic
Bobcat Classic starts Friday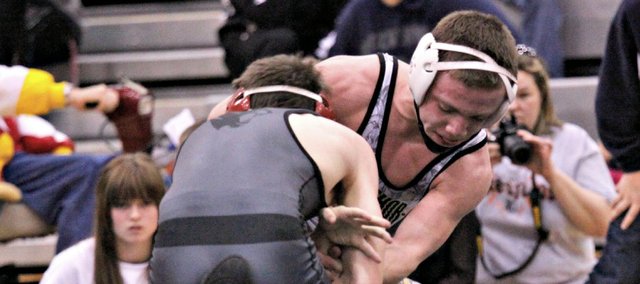 BLHS won the Dick Burns Mat Classic on Saturday at Bonner Springs. It was first time in any current wrestlers' high school career that the Bobcats finished atop the team standings at an event.
"It was a good step. We have loftier ambitions, so it's nice to see that we're progressing," said Cordts, who took over the program last season. "We're just adding to it, and this is the next piece of the puzzle."
Cordts' squad finished with 208.5 points — 15 better than runner-up Bellevue East (Neb.) and 50 better than rival Bonner Springs, a fourth-place finisher.
Corbin Nirschl (106 pounds) and John Hopper (152) each won individual titles to lead the charge and remain undefeated. They were two of four Bobcats to reach the finals in their respective weight classes. Justin Phillips (132) and Cory McCleary (160) also wrestled for gold medals, but lost tightly-contested matches in the championship round.
In total, BLHS had 11 wrestlers earn top-four finishes. Shayn Morris (113), Pierce Holyfield (138) and Zack Carter (195) each rebounded from early losses to reach the consolation finals and place third, while Josh Summers (145), James Handke (152), Zack Holtgrewe (182) and Brett Fritz (285) finished fourth.
"That was really, really great," Cordts said. "A tournament is not always won by putting a bunch of kids in the finals. Even if you lose in the first or second round, you can really help the team out."
Handke wrestled against teammate Stephen Struzzo in the consolation finals, but Struzzo was competing unattached, so his points didn't count toward the Bobcats' team score.
BLHS will be back at home Friday for the first day of the annual Bobcat Classic. Widely regarded as one of the top tournaments in the Midwest, the two-day, 32-team event draws programs from across Kansas and several surrounding states.
"It's a lot of fun to host a tournament like that," said Cordts, who wrestled in the tournament during his days at Santa Fe Trail. "People know about it and it's something they'll always be talking about. It's just a real good landmark for the year. It's crazy how much goes into this, but everybody really comes together to put on a good tournament."
Action will begin at 11:30 a.m. Friday and resume at 10 a.m. Saturday. It is a double-elimination tournament, so not all wrestlers will advance to the second day of competition.
Overall team scores
Basehor-Linwood, 208.5; 2. Bellevue East, 193.5; 3. Shawnee Mission Northwest, 178.5; 4. Bonner Springs, 158.5; 5. Baldwin 153.5; 6. Lee Summit North, 119.5; 7. Fort Scott, 98; 8. Paola, 83; 9. Atchison, 81; 10. Bishop Miege, 76.5; 11. Unattached, 53.5; 12. Eudora, 24; 13. Highland Park, 23.
BLHS individual results
106 — Corbin Nirschl, 3-0 (first)
113 — Shayn Morris, 3-1 (third)
120 — Spencer Ogden, 0-2 (N/A)
126 — Rylan Hawthorne, 1-2 (N/A)
132 — Justin Phillips, 2-1 (second)
138 — Pierce Holyfield, 4-1 (third)
145 — Josh Summers, 2-2 (fourth)
152 — John Hopper, 3-0 (first)
160 — Cory McCleary, 2-1 (second)
170 — Stephen Struzzo, 4-1 (third)*
170 — James Handke, 2-2 (fourth)
182 — Zach Holtgrewe, 2-2 (fourth)
195 — Zack Carter, 4-1 (third place)
220 — Dominic Foster, 2-3 (sixth)
285 — Brett Fritz, 102 (fourth place)
*Wrestled unattached