Stallbaumer introduced as
BLHS

football coach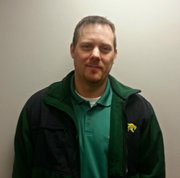 When former Basehor-Linwood High football coach Steve Hopkins announced his resignation in November, athletics director Joe Keeler said acting fast to find a replacement was a top priority. Less than two months later, a new era has begun.
The USD 458 school board voted Monday to approve the hire of Ron Stallbaumer as the school's new football coach. Stallbaumer joins the Bobcat program after seven years as the head coach at Class 2-1A Lyndon.
"During his interview, coach Stallbaumer shined, not only as an exceptional football coach, but as a passionate educator who thoroughly enjoys teaching," Keeler said in a release. "It's obvious he's a tremendous instructor and very enthusiastic about education. We feel that he is well-aligned with the academic mission of BLHS, as well as our goals for athletics. He is the complete package."
Stallbaumer enjoyed plenty of success at Lyndon, where he went 52-23 from 2007 to 2013. During that stretch, the Tigers reached the playoffs six times and won four district titles — three in the previous three years. They went 11-1 this past season with their only loss coming to eventual state champion Centralia in the sub-state round of the playoffs.
Stallbaumer takes over a team that went 3-6 in 2013 and has missed the playoffs each of the previous two seasons after making five straight trips from 2007 to 2011. In total, he has 13 years of high school football coaching experience in Kansas — 12 of them as a head coach.
In addition to his football success, Stallbaumer helped establish one of the state's premier powerlifting programs at Lyndon. The boys team won a 2A state title in 2011 and finished second in 2012. He'll have the luxury of another elite boys program at BLHS, which has won four consecutive 4A state titles under coach Ross Schwisow.
The team's powerlifting success, as well as its accomplishments in other sports, made for an easy decision to take the job, Stallbaumer said.
"My goal at Lyndon is the same as what my goal will be here: Try to create of the best places to go to school and play football," he said. "I think all the ingredients are at Basehor-Linwood. The powerlifting is in place, the basketball program has been phenomenal, and the community support, you can just see it through the powerlifting process."
Stallbaumer met with BLHS players for the first time Monday, but is hardly a stranger to their recent body of work. He said he spent the holiday break watching game film from last season to evaluate his returning players.
While he won't officially take over the program until the end of the current school year, Stallbaumer went over his expectations of the team's returning players — particularly the incoming seniors — and he wants preparation for his first season to begin well before he's settled in Basehor.
"They have to consider their senior year starting in about March," he said. "It's time for the juniors to make sure they're really pushing themselves and preparing for the next year. It'll be difficult not being in the building until the start of summer, but with coach (Brian) Lohafer and coach Schwisow around, I think there are enough people around to kind of keep them in check."
Stallbaumer has already met with several members of last year's coaching staff and will continue to build his first group of assistants in the coming months. He said there is likely to be some retention from last year, but also expects some changes.
In addition to football, Stallbaumer said he'll likely serve as an assistant track and field coach and help Schwisow with the offseason weights program. He'll teach social studies and history classes next year at BLHS.