Bonner Springs, Basehor libraries join in family reading effort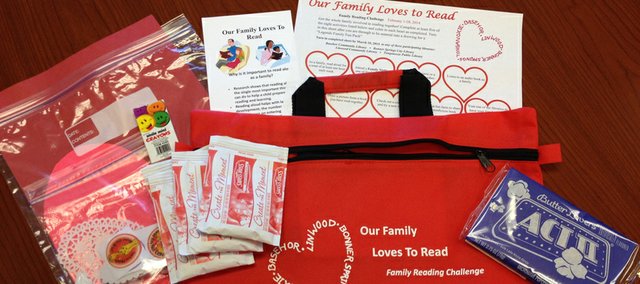 Libraries in Basehor, Bonner Springs, Linwood and Tonganoxie are making a joint effort to encourage families to read together next month.
Sign-up for the "Our Family Loves to Read" program began this week, and each community's library hopes the program will encourage families to read together and spend time together in other ways. While other programs encourage individuals to read, the family reading program's goal is to ensure that children and a parent, guardian or other adult family member share their reading experiences.
"For summer reading, it seems like it's the kids on their own bringing in their reading, and we don't know if there's much interaction between the parents and the kids for that," said Lesley Lard, youth and teen librarian in Bonner Springs. "So we thought this would be something different that would be more about the reading part and not just the prizes, and getting them to do different things together."
Family Reading Nights
• Linwood Community Library, 19649 Linwood Rd.: 6:30-7:30 p.m. Feb. 6
• Basehor Community Library, 1400 158th St.: 5:30-7:30 p.m. Feb. 10
• Bonner Springs City Library, 201 N. Nettleton Ave.: 5:30-6:30 p.m. Feb. 20
• Tonganoxie Public Library, 303 S. Bury St.: 2-4 p.m. Feb. 23
Lard and Diana Weaver, Basehor Community Library director, learned about the idea at a library conference in the fall. A Minnesota library with several branches first developed the idea. Lard said they thought they could take the idea and make it their own, with the four area community libraries working together to split up the work.
Kim Beets, Bonner Springs City Library director, said the libraries would like it to be an annual February program they could continue to build each year.
"It's a time when it's cold out, people aren't quite as busy, and it might be a really good time to spend time as a family reading or spend time engaging in other activities as a family," Beets said. "We want it to appeal to all ages; we want little kids or elementary, or we'd love teens to do it with their parents."
To sign up, a family must include at least one adult over 18 and one child under 18, so grandparents could participate with their grandchildren, aunts or uncles with nieces and nephews or older siblings with younger siblings.
"It doesn't have to be a parent and a child, it can be whoever, just so long as there's an adult and a child doing it together," Lard said.
Those who sign up will get a bag with a special logo featuring the name of each community in the shape of a heart. The bag will have bags of microwave popcorn and powdered hot cocoa, a reading/activity log and a tip sheet for how to read and enjoy books together. The bags also have a paper heart for each family to decorate, along with some materials to decorate the heart, and each library will create a display for the hearts.
Throughout the month, families will need to complete five of eight challenges to be entered in a grand prize drawing for a Legends Family Fun Pack. The challenge log must be completed and turned in by March 10.
One way to complete a challenge will be for the family to attend a Family Reading Night at one of the libraries. Each with have their own night with special activities; Bonner's event will focus on the "Pete the Cat" book series.
"We're hoping maybe it will engage some people to maybe visit multiple libraries and discover some new things, because all of the libraries are pretty close," Beets said.
Families must sign up by Feb. 10 to participate, or while supplies last. Beets said because it was the first year for the program, they weren't sure how many bags to order, but they will try to accommodates as many families as they can with the other supplies, even if the bags themselves run out.