Bobcat lifters sweep team titles at Royal Valley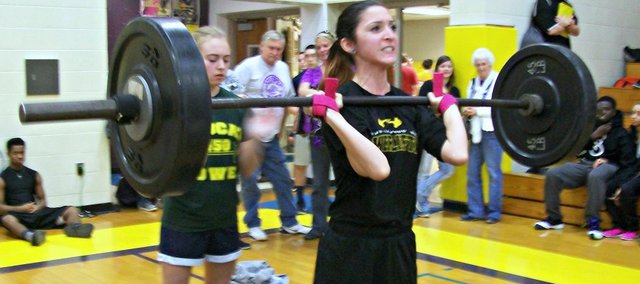 The Basehor-Linwood powerlifting teams enjoyed their second consecutive sweep over the weekend, claiming the boys and girls overall titles at the sixth annual Royal Valley meet.
Both Bobcat teams are off to strong starts to their state title defenses, as they also won a pair of team titles in their season opener Jan. 11 at McLouth. Several BLHS lifters won individual medals at both meets.
Cassandra Beattie, Katey Trower and Dean Cochran were selected as "Lifters of the Meet" in Royal Valley, which had 520 lifters from 25 schools. Each won overall titles in their respective weight classes. Other overall champs were Kyle Ross, Courtney Norris and Kailey Drennon.
The Bobcats will host their annual home meet on Feb. 8. The meet is expected to draw more than 650 lifters from about 35 schools. In addition to the three lifting events, the meet will include 10-yard dash, vertical jump and broad jump competitions.
BLHS award winners
Overall champs: Cassandra Beattie, 420; Kailey Drennon, 480; Courtney Norris, 540; Katey Trower, 595; Dean Cochran, 950; Kyle Ross, 950.
Second place overall: Britney Smith, 460; Cassie Tucker, 535; Alli Kasick, 620; Garrett Cook, 565 (junior); Caleb Metsker, 620 (junior); Austin Salazar, 830 (junior); Tyler Miller, 495; Eric Purrington, 740; Tyler Kendrick, 825.
Third place overall: Katie Tindell, 425; Steven Salazar, 550 (junior); Justin Mance, 500; Jeff Storms, 545; Chase Unruh, 660; Jay O'Bryan, 940; Nick Chaney, 1,015.