Basehor comes together to find cat a home in McLouth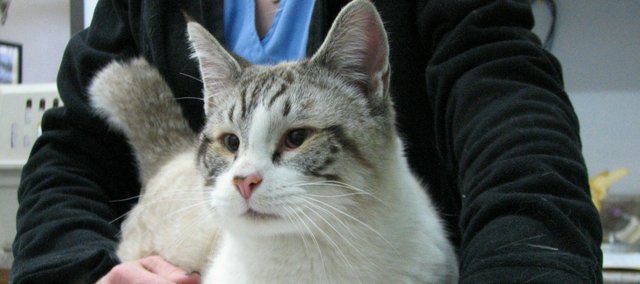 Basehor — It only took a couple of seconds for the cat to nuzzle its head into his new owner.
Jeannette Mercier of McLouth held the cat she immediately dubbed Mr. Magoo, after the old cartoon. Mr. Magoo was found near Jim and Karen Oberg's house in Basehor two weeks ago, when high temperatures barely reached the teens. His eyes were clogged with gunk, and he seemed to be visually impaired.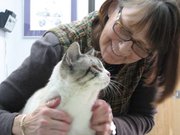 "I've felt like a new mom all day," Mercier said Wednesday when she picked Mr. Magoo up from the Basehor Veterinary Clinic.
The Obergs' daughters, Jamie Oberg, and Kristie Warhurst spotted the cat weeks ago when their parents' dogs were going wild over movement outside the house. The cat approached Warhurst after hearing the sound of her voice, and she said he immediately wanted to be picked up and petted.
The sisters contacted the Basehor Sentinel seeking the cat's owner or a family that would be able to adopt him. The family's two large dogs, despite Jim and Karen Oberg's affinity for the cat, made it impossible for them to adopt it. For the past two weeks, the cat has been kept in the Obergs' garage with plenty of food and care, Jamie Oberg said.
Kelly Lightfoot, owner of the Basehor Veterinary Clinic off State Avenue, saw the Sentinel's Facebook posts and reached out to the Obergs, offering to treat the cat's eyes, as well as vaccinate and neuter him, for free.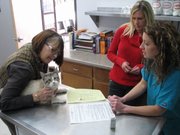 By Wednesday, Mr. Magoo weighed 12 pounds and looked at his new owner through pretty green eyes. Lightfoot thinks the cat contracted conjunctivitis in the wild and prescribed eye drops to be taken for another few weeks.
Lightfoot said Mr. Magoo appears to have some Siamese in him and is about 18 months old.
"I have no idea what his history could've been," Lightfoot said. "If only they could talk."
Photos of the cat spread on social media until Kathleen Carpenter of Basehor saw them and sent the story to Mercier.
Mercier already has four cats, all adopted. Two were adopted from the largest no-kill animal shelter in the country, Best Friends Animal Shelter of Utah. Another one of her cats was found on the side of a highway in Wichita, while the other was found abandoned at a Wakarusa Music Festival. Mercier also owns three rescue dogs.
"I could think of no one better to adopt this cat," Carpenter said.
Mercier was the first person to contact both Lightfoot and the Obergs about adopting Mr. Magoo, Jamie Oberg said. Lightfoot said she was still receiving multiple calls per day about the cat.
"It goes to show what social media can do for lost animals and rescue animals," Lightfoot said.
Mercier held Mr. Magoo for the first time on Wednesday, showering him with love, then crated him to take back to her house near Lake Dabinawa.
"i'm going to have to put a birth announcement in the paper," Mercier laughed.