Bobcat boys win nail-biter to reach finals, girls falter in second half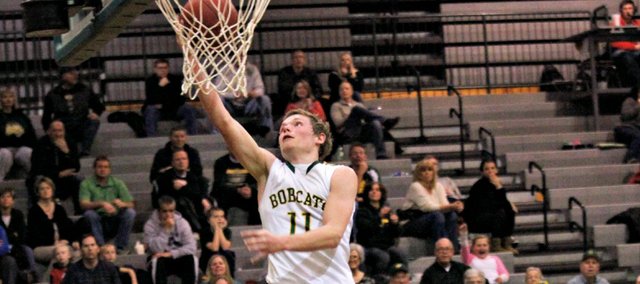 TOURNEY TRACKER
Wednesday's scores
Park Hill 52, Platte Co. 41 (girls)
Park Hill 70, Pembroke Hill 48 (boys)
Holton 40, Pembroke Hill 29 (girls)
Platte Co. 78, St. Joe Benton 57 (boys)
Thursday's scores
Hayden 58, Ottawa 37 (girls)
Ottawa 62, Hayden 54 (boys)
St. Joe Benton 47, BLHS 24 (girls)
BLHS 52, Blue Valley 51 (boys)
FRIDAY SCHEDULE
Seventh-place games
Platte Co. vs. Pembroke Hill (girls), 3 p.m.
St. Joe Benton vs. Pembroke Hill (boys), 4:30 p.m.
Fifth-place games
Park Hill vs. Holton (girls), 6 p.m.
Platte Co. vs. Park Hill (boys), 7:30 p.m.
SATURDAY SCHEDULE
Third-place games
Ottawa vs. BLHS (girls), 3 p.m.
Blue Valley vs. Hayden (boys), 4:30 p.m.
Championship games
Hayden vs. St. Joe Benton (girls), 6 p.m.
BLHS vs. Ottawa (boys), 7:30 p.m.
It didn't come without some late-game drama, but the Basehor-Linwood boys are back in the finals of their home tournament.
BLHS survived a back-and-forth semifinal battle with Class 6A Blue Valley, hanging on in the final seconds for a 52-51 victory Thursday.
"I didn't know what to expect," coach Mike McBride said. "We don't play big 6A teams a lot at our level. I knew they were good."
The teams started the fourth quarter in a 41-41 tie, and a pair of Chase Younger free throws gave BLHS its first second-half lead at 45-43 with 6:22 remaining. The Bobcats (8-2) extended the advantage to five with 2:14 left, but Blue Valley clawed back to make it 52-51 with 1:17 to go.
McBride's squad got two chances to extend its lead in the final minute, but Younger and Patrick Muldoon each missed two free throw attempts. The Tigers got a chance to tie or take to lead in the final seconds, but a shot attempt by Mason King clanked off the rim and Muldoon cleared the ball out as time expired.
Muldoon, a 6-foot-6 Mill Valley transfer and the Bobcats' primary big man, spent most of the second half on the bench. He was whistled for a technical foul — his fourth foul of the game — with 2:16 left in the first half and didn't return until midway through the final period. That meant extended time for 6-foot-4 junior Carson Fliger, who scored six points and pulled down several key rebounds down the stretch.
"We know what kind of player (Fliger) is in practice," McBride said. "It's just a matter of getting it in the games. That's how he can play every night."
Blue Valley was also without a key player in the post, as Dakota Quinn (6-foot-6) left the team after Monday's win against Platte County (Mo). Quinn, son of former MidAmerica Nazarene University football coach Jonathan Quinn, transferred because his dad took another coaching position in Tennessee.
BLHS seemingly grabbed some early momentum when it jumped out to a 14-8 lead at the end of the first quarter, but Blue Valley battled back to force a 29-29 tie at halftime. The Tigers briefly went in front after the break, but never led by more than three points.
"In the first half, I thought we were still in a little bit of a lag," McBride said. "In the second half, we came out, battled and fought and kind of forgot about everything."
Zach McNabb and Younger led the Bobcats with 17 and 15 points, respectively. Blue Valley's Jalen Fulce led BVHS with 12 points.
The Bobcat victory sets up a rematch of last year's Bobcat Invitational final with Ottawa. Despite losing nine seniors from last year's Class 4A state championship team, including current Duke University freshman Semi Ojeleye, the Cyclones are 7-2 this season, including Thursday's 62-54 semifinal win against Hayden.
"They're patient on offense, so that'll be a change for us, and we're going to have to execute on the offensive end to beat them," McBride said.
Tipoff is set for 7:30 p.m. Saturday. Powered by a 47-point outing by Ojeleye, Ottawa won a 64-59 thriller against BLHS in last year's championship game. The teams have played multiple tightly-contested games in recent years, including a 56-52 BLHS win in the 2012 state championship game.
Score by quarters
Blue Valley 8 21 12 10 — 51
Basehor-Linwood 14 15 12 11 — 52
Individual scoring
BLUE VALLEY — Jalen Fulce 4-7 1-1 12, Tyler Geiman 3-7 1-2 10, Kyle Nunnally 4-6 0-0 8, Michael Heider 2-3 3-4 7, Mason King 2-6 3-4 7, Alex Peterson 0-2 3-4 3, Ryan Brady 1-7 0-0 2, Will Brennan 1-2 0-0 2.
BASEHOR-LINWOOD — Zach McNabb 5-7 4-4 17, Chase Younger 5-13 4-6 15, Carson Fliger 2-3 2-4 6, JP Downing 1-3 3-3 5, Tim Sanders 2-2 0-0 4, Jahron McPherson 1-4 1-4 3, Patrick Muldoon 1-3 0-2 2.
ST. JOE BENTON GIRLS 47, BLHS 24
Basehor-Linwood and St. Joe Benton (Mo.) battled to a 16-16 tie at halftime, but a Cardinal-dominated second half doomed the Bobcats in their first loss of 2014.
After shooting just 21.4 percent in the first half, Benton drained three of its first four 3-point attempts in the third quarter. The Cardinals outscored BLHS (7-3) in the period, 17-4, and led by double digits the rest of the way. The lead grew as large as 25 in the game's final minutes.
"Even when we got down, there were still chances to cut into the lead, but when we did get opportunities to score, we didn't cash them in," said coach Jason Tatkenhorst, whose Bobcats scored just eight points after the break.
Fresh off a 41-39 win against Pembroke Hill (Mo.) in Monday's quarterfinal round, it looked as though BLHS was in for another back-and-forth affair. The Bobcats trailed by a single point after one quarter and, after allowing Benton to open a 14-9 lead in the second, went on a 7-2 run to knot things up at intermission.
BLHS used a zone defense to keep the Cardinals from finding an offensive rhythm in the first half. The Bobcats switched to man-to-man after Benton's scoring run in the third, though, and they couldn't keep up late.
"We were very, very happy with our first half," Tatkenhorst said. "In fact, at halftime, we told our kids we were the better team. That's a step in the right direction, but St. Joe Benton has great players and a is very good team."
Victoria Smith scored nine points to pace BLHS, but went just 1-of-8 from the field. As a team, the Bobcats managed just three field goals. Benton's Daejah Benard led all scorers with 19 points — 12 in the first half.
BLHS, which saw its five-game win streak come to an end, will play Ottawa in the third-place game at 3 p.m. Saturday. The Cyclones fell to Hayden in their semifinal matchup, 58-37.
"They put a lot of talented players on the court, so we're in for another tough one," Tatkenhorst said of OHS. "This is another good opportunity outside of our league to play against a good team."
Score by quarters
St. Joe Benton 10 6 17 14 — 47
Basehor-Linwood 9 7 4 4 — 24
Individual scoring
ST. JOE BENTON — Daejah Benard 6-8 5-6 19, Lindsay Doolman 2-5 2-3 7, Sam Moran 3-8 0-0 7, Lucy Mollett 2-6 2-2 6, Morgan Domann 1-1 2-2 4, Timia Stillman 1-1 0-0 2, Madi Reynolds 0-0 2-2 2.
BASEHOR-LINWOOD — Victoria Smith 1-8 7-11 9, Amber Garver 2-4 2-4 6, Marriah Clayton 1-2 0-1 3, Zoey Deleon 0-0 2-2 2, Alex Gorman 0-4 2-2 2, Ryann Smith 0-1 1-2 1, Madison McDowell 0-5 1-3 1.