Bonner Springs' Valley Feed finds niche with smaller farms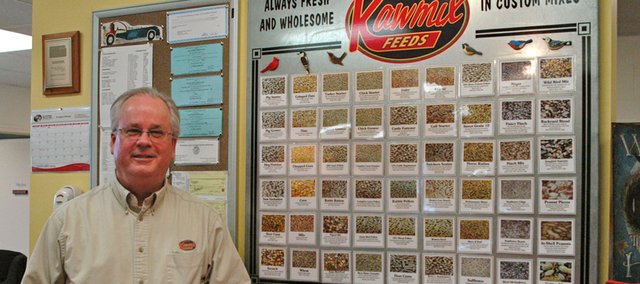 How does a farm-based business survive 91 years when the farms it originally served have all but disappeared?
"We're small enough, we're agile enough, we can adapt to market changes pretty fast," says Neal Stubbs, third-generation owner of Valley Feed & Supply Co. in Bonner Springs. " … I try to diversify enough that if one thing kind of slows down for a bit, there's something else we can do without losing focus of what we're all about."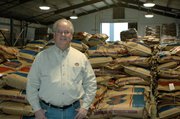 Today, Valley Feed & Supply, 600 W. Second St., keeps busy by catering to smaller farms that remain in the area, still producing its Kawmix feeds for chickens, rabbits, cows, horses and pigs, while providing other services for smaller farms, as well. Stubbs said the business has found its niche because it won't compromise on the all-natural proteins and other ingredients it uses in its feed.
"We're very open about what we put in the feeds," Stubbs said. "We don't use a least-cost formulation and adjust what goes into the feed. … All of our formulas are set, so if a price of an ingredient goes up or down, rather than taking it out and replacing it with something cheaper, we leave it in and adjust the price."
The business was started in 1923 by Stubbs' grandfather, Fredd Stubbs, as Stubbs Feed and Coal. The original location a few blocks to the south was right next to the railroad tracks, so it sold coal as well as catering to farmers.
The business began only grinding and mixing feed ingredients, but it became an actual feed manufacturer after Stubbs' father, John Stubbs, took over the business, incorporating under the Kawmix brand in 1956.
"We do everything that the larger mills do: We steam roll grains, we cut grains, we grind, we pelletize," Neal Stubbs said. "But instead of doing a couple hundred tons a day, we do 15 to 20 tons a day. But of course, we do a better job."
The business survived two fires at the original location before moving to its current location in 1970; Neal Stubbs joined the business in 1978, officially becoming the owner in 1995.
He has watched almost all the area dairy and hog farms the business originally served disappear, but he has been able to stay alive serving smaller farms of 5 to 10 acres that have horses or other animals. Most customers are from Johnson, Leavenworth and Wyandotte counties, with a few driving in from Douglas County or even northeastern Missouri.
In the past 15 years, he also has taken on laboratory farms that require custom mixes for their chickens, pigs and cattle. Stubbs said it's actually good that he does not to rely on larger farms anymore, because these days, most of them raise their own crops and produce their own feed.
"We're fortunate that we're located close to the metropolitan area; if we were 100 miles out in the country, we probably wouldn't be in business anymore," he said. "We're able to cater to a local market around here that they're not really relying on farming for their livelihood; it's a way they can be out in the country but still close into town."
But Valley Feed also provides some items others wouldn't think of in the shop attached to the feed mix warehouse. On its Facebook page just before Christmas, it reminded customers that they have options for "that Dog Lover, Birdwatcher, Gardener, Barrel Racer, Horseshoer, 4-H member, Egg-man, ChickenLady, Emu breeder, Rabbit Raiser, Cat Fanatic, Teacher, Spiritual Leader, Landscape Artist, Naturalist, Farmer, Veteran, Trail-rider, Ranch-hand, Nature Enthusiast, Mailman, Lineman, Railroad Worker, Amateur Weather Forecaster, Fisherman, Veterinarian, Master Crafter or K.C. Chiefs Player" on customers' gift lists.
While Valley Feed offers some dog and cat food lines, bulk garden seed and locally-made products in its shop, it's probably best know for its bird seed, with plenty of bird feeders available, as well.
"We're probably as cheap if not the cheapest on the basics," Stubbs said. "In a typical winter, I sell about 100 tons of bird seed."
Many also know Valley Feed for their "chick days" — they still mail-order chicks, and an area hatchery also brings in chicks about twice a month beginning in March.
Valley Feed gets involved in the community by supporting 4-H clubs and county fair projects.
"I really appreciate Valley Feed and Seed for their community mindedness," Peggy Boyd, Wyandotte County 4-H youth development agent, recently shared on the company's Facebook page. "They have provided awards for 4-H youth for years and they can never be thanked enough."