Basehor
VFW

honors Patriot Pen and Voice of Democracy winners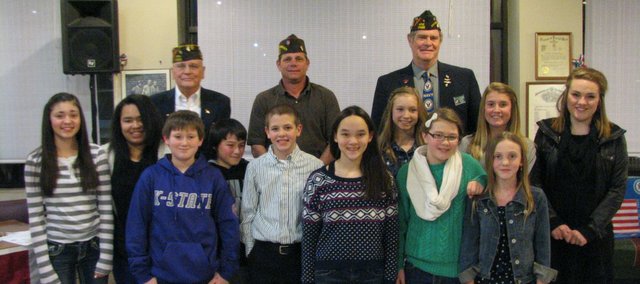 Basehor — Allyson Owens read her Patriot Pen essay about patriotism and what it means to her at the Basehor VFW Post 11499 with a confidence more befitting of a high schooler than a sixth-grader.
"Patriotism is a lifestyle," Owens read to a crowd of nearly 100 students, family and VFW members, "one I live everyday in a military family."
Owens was surprised after reading her essay to find out it was selected as the best in District in the Patriot Pen competition judging. Owens was one of more than 400 students in the Basehor-Linwood school district to submit Patriot Pen essays to the Basehor VFW this year. District Commander Bill Levitt said that was more than all of the other 16 VFW's in the District combined.
"We do a lot of reading," laughed post Quartermaster Dan Stueckemann. "But they are a lot of fun to read."
On Thursday night, 11 winners from sixth to eighth grade read, as did Jade Province, the winner of the Voice of Democracy essay contest at Basehor-Linwood High School for her essay about the nation's future and why she's optimistic. Their essays and were presented with certificates and a cash prize.
Province also had her name engraved on the Voice of Democracy plaque at Basehor Linwood High School for winning the award.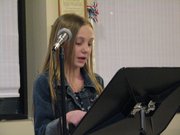 The winners in the sixth-grade competition were Owens and Alexis Glazen. Winners in the seventh-grade competition were Alyssa RIchardson, Macala Wilming, Brayden Myers, Winston Verdict, Mackinzie Bizzel, Angela Arwine and Joseph Staresinic. The eighth-grade winners were Ravyn Willis and Cheyenne Jones.
Annually, more than 100,000 students nationwide from grades six through eight enter the Patriot Pen contest coordinated by the national VFW. One first-place winner from each state competes to win one of 46 national awards totaling $46,000. The national first-place winner wins $5,000 and an all-expense-paid trip to Washington, D.C., in March.
Students draft a 300 to 400 word essay, expressing their views based on an always patriotic annual theme chosen by the VFW Commander-in-Chief.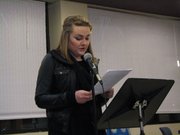 The VFW established the Voice of Democracy program for high school students, and winners are eligible for a range of scholarships. The national first-place winner receives a $30,000 scholarship, while other scholarships range from $1,000 to $16,000.
Owens and Province, who won the district this year, did not make it past the regional judging to represent their state in Washinton, D.C. Even so, Provice said, she relished the opportunity to write about her country and read in front of the Basehor VFW.
"It makes me feel really honored," Province said.
After the presentation of awards, seventh-grader Bizzel approached Stueckermann and Levitt with her cash prize and told them she wanted to donate it back to the VFW.
"I wanted to do this when I was writing (the essay)," Bizzel told them, and thanked them for their service.