Basehor prepares for Super Bowl with cooking class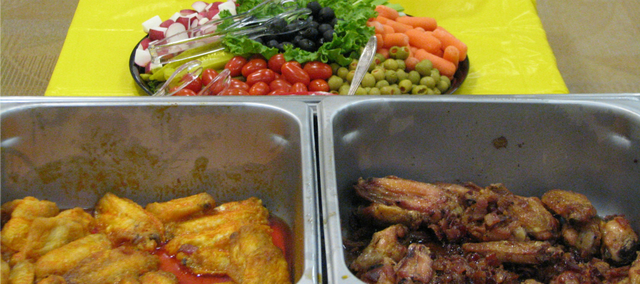 Basehor — From hot wings to popcorn, Super Bowl Sunday is the second largest food consumption day in America topped only by Thanksgiving.
On Saturday, about a dozen people gathered at the Basehor Community Library to learn how to make and add some creative flare to the typical snacks and foods plated for the biggest sports event in America.
Janice Garcia hosted the event and taught the attendees how to make homemade buffalo wings, salsa and other dips.
"This is not a fat-free Super Bowl party," Garcia said.
Garcia also infused some Super Bowl trivia. She gave the history of the famed buffalo wing from its beginnings in Buffalo, N.Y., to its current popularity. It is estimated that 1.23 billion chicken wings will be consumed this Sunday. It is also estimated that 80 million avocados will be eaten.
"Throw that out there when you are watching the game on Sunday," Garcia laughed.
Garcia offered crative ideas on how to make everyone's Super Bowl snack tray unique. She demonstrated how to batter and fry, or bake, a variety of wings including a bourbon-bacon-flavored chicken wing.
The other dishes on exhibition were handmade sour cream and onion dip, fresh salsa with avocado chunks and home-fried potato chips. The attendees also learned how to roast a jalapeño to take some of the heat out of the pepper.
Carol Landon of Basehor said she learned several new things in the class. She enjoyed Garcia's take on salsa that also included fresh cilantro and green onion.
"Sunday, this is what I'm making," Landon said.
Garcia warned her class not to procrastinate until the big day. She said many of the dip and meal recipes out there for game day can be made the day before.
"Do as much as you can ahead of time so you can enjoy the day," Garcia said.