Bobcats throttle Ottawa for first
BIT

title in three years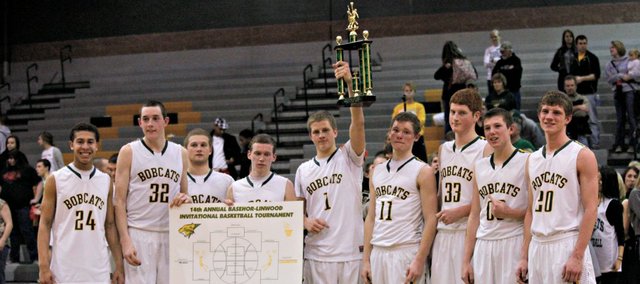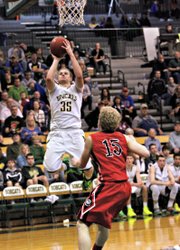 Final standings
Basehor-Linwood
Ottawa
Blue Valley
Hayden
Platte County
Park Hill
Pembroke Hill
St. Joe Benton
Basehor-Linwood an Ottawa etched yet another chapter into their storied history Saturday night. Unlike so many of its predecessors, though, this chapter was void of any suspense from the very beginning.
The Bobcats came out firing on all cylinders, taking control early and cruising to a 74-57 win against the Cyclones in the championship game of the Bobcat Invitational. A 29-point halftime lead gave coach Mike McBride's squad all the momentum it needed and more, as it avenged back-to-back championship losses to OHS in 2012 and 2013.
After narrowly escaping with a one-point win in its semifinal game against Blue Valley, BLHS (9-2) wasted little time establishing control in Saturday's finale. It opened up a 19-10 advantage at the end of the first quarter and took its first double-digit lead with 6:43 to go until halftime.
The Cyclones missed nine of their 13 first-half 3-point attempts, allowing the Bobcats to continue to pull away before the break. When the halftime buzzer sounded, the lead had grown to an insurmountable 29 points, 49-20.
BLHS enjoyed arguably its best first half of the season, shooting nearly 80 percent as a team.
"I felt like I had seven or eight guys on the floor, five at a time, who were going to score whenever they got the ball," McBride said. "I was just excited that all of our kids came to play. That's the team I thought we had a the beginning of the year. It just makes you feel good as a coach."
A 3-pointer by Chase Younger — one of his game-high five treys — made it a 30-point game early in the third quarter. Ottawa spent the remainder of the game closing the gap, but never got closer than 17 points.
As a team, Ottawa went 9-of-27 from beyond the 3-point arc. The Bobcats dominated the boards on the defensive side of the floor, taking away any second-chance opportunities.
"If you play a team that shoots the three like that, we've got to rebound," McBride said. "Once you take that away from a team that lives and dies by the three, it's going to be hard for them to beat you."
Younger led the Bobcats to their first BIT championship since 2011 with 21 points. Following the victory, he was named the tournament's most valuable player. He averaged 18.7 points in three tournament games. He was joined in double figures Saturday by Patrick Muldoon, who scored 16 of his 18 points in the first half.
Zach McNabb (14.3 ppg) and Muldoon (10.7 ppg) joined Younger on the all-tournament team.
"I think anybody on our team could have gotten MVP," Younger said. "Everybody played great for the whole tournament. It was fun just playing together as a team. That's how we expect to play all year."
In other final-round action, Blue Valley defeated Hayden in the third-place game, 61-54. Platte County (Mo.) beat Park Hill (Mo.) for fifth place on Friday, 67-60, and Pembroke Hill (Mo.) handed St. Joe Benton (Mo.) a 57-50 loss in the seventh-place game.
The Bobcats' semifinal victory wasn't without some late-game drama, as the Bobcats needed all 32 minutes to escape with a 52-51 win against the Class 6A Tigers. After battling to a 41-41 tie after three quarters, BLHS opened up a five-point lead with 2:14 remaining. Blue Valley cut the deficit to one less than a minute later, but despite missing on four late free throw attempts, the Bobcats stayed in front until the final buzzer.
Muldoon, the Bobcats' primary post player, spent nearly the entire second half on the bench after picking up his fourth personal foul with 2:16 left in the first half. Carson Fliger stepped up in Muldoon's absence, scoring six points and pulling down several key rebounds in the game's closing minutes.
"We know what kind of player (Fliger) is in practice," McBride said. "It's just a matter of getting it in the games. That's how he can play every night."
BLHS had little trouble reaching the semifinals, as it cruised to a 79-39 win against St. Joe Benton (Mo.) in a quarterfinal matchup on Jan. 20. The Bobcats shot 50 percent in the first half and went into the locker room with a 24-point lead, 40-16. They stayed hot after the break, and a running clock went into effect midway through the third quarter.
As a team, BLHS went 10-of-19 from beyond the arc. McNabb and Younger led the way with 20 points apiece.
After nearly a weeklong break, McBride's team will return to the court Friday for a non-league home game against De Soto — a second-place finisher at last week's Tonganoxie Invitational. The Bobcats will look to avenge a 56-51 loss they suffered to the Wildcats last season at DHS.