Bobcat softball trio college-bound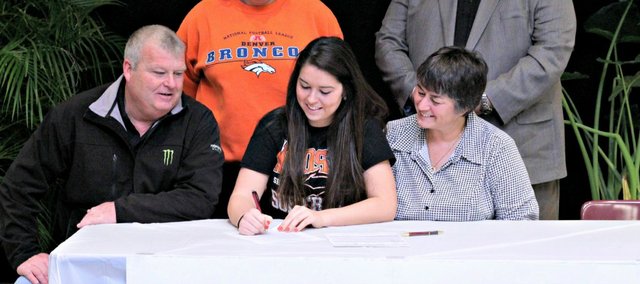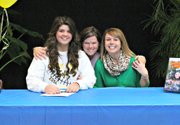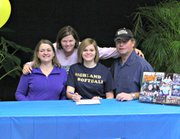 After putting up big numbers as juniors last spring, three Basehor-Linwood softball players have guaranteed their careers will continue past high school.
Current seniors Allison Kasick, Katie Lackner and Candice Jennings all signed national letters of intent with college programs earlier this month. Lackner and Kasick are headed to Highland Community College, while Jennings has signed with Neosho County Community College in Chanute.
Kasick, an infielder, emerged as the Bobcats' top hitter in 2013. She led the team with a .517 batting average and 35 runs batted in. Twenty of her hits went for extra bases, including a team-best six home runs. Her efforts didn't go unnoticed, as she received first-team All-State and All-Kaw Valley League honors.
Lackner established herself as one of the league's top outfielders, committing just three errors in 21 games. She hit .417 with 24 RBIs and 14 extra-base hits, including a team-leading five triples. She joined Kasick on the All-State and All-KVL teams.
Kasick and Lackner will join a Scottie program that went 39-10 last season, including a 2-2 mark at the NJCAA Division II national tournament.
Jennings shared the infield with Kasick last spring. She hit .394, drove in 24 runs and led the Bobcats with five stolen bases on the way to a first-team All-KVL selection. She joins a Panther team coming off a 2-37 season in 2013.
The Bobcats went 14-7 last season, splitting the KVL championship with Mill Valley. They reached the second round of their Class 4A regional tournament. They'll open their 2014 campaign March 27 with a home doubleheader against Turner.