BLHS

wrestlers defeat Tonganoxie on senior night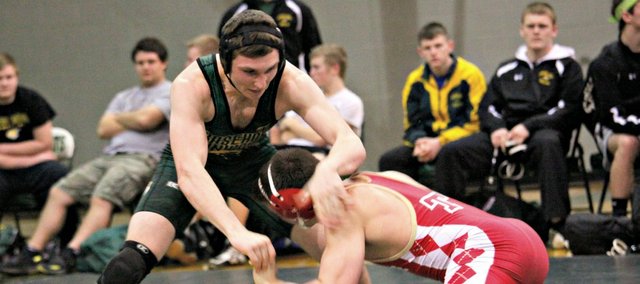 Eight Basehor-Linwood wrestling seniors closed out their final home action on a winning note Thursday, and they did so against a rival opponent.
Powered by two pins, the Bobcats won a Kaw Valley League dual against Tonganoxie, 42-20. The dual victory was the team's second in three days.
"I'd have to say it's pretty special," senior Cory McCleary said. "Tongie has always been one to rival us, and most of the time, they're beating us. Tonight was extra special since we got to take it to Tongie. It was awesome."
Open spots gave each team an early default win, and neither squad had a wrestler at 113 pounds, so the first match took place at 126. Tonganoxie's Jay Willcutt (126) and Clayton Himpel (132) scored back-to-back wins to give the Chieftains a 14-9 advantage, but Justin Phillips (138) and Josh Summers (145) answered to put the Bobcats on top, 15-14.
Phillips, normally a 132-pound wrestler, moved up to 138 for the dual and defeated Tonganoxie's Garrett Martin, 9-6.
"Phillips just turned it on this week," coach Tyler Cordts said. "He wrestled real well Tuesday night (at Eudora), then tonight, he came out and got a huge win at a higher weight."
Summers followed Phillips' win with a pin of Heath Martin.
Tonganoxie briefly regained the lead when Asher Huseman (152) defeated John Hopper, 8-3, but McCleary (160) pinned Joe Wolf to put the Bobcats in front for good. The Chieftains were open at 170 and 182, which gave BLHS an insurmountable 33-17 lead.
"I think, to start off, we were not too into it," McCleary said. "We could have had a little bit more motivation. Other than that, I think we did our job."
Zack Carter earned the last BLHS victory in the 195-pound match, avenging a Bobcat Classic loss to Luke Carey with a 7-3 win. Tonganoxie's Zeke Kissinger (220) defeated Jake Phillips, 7-3, but THS was open at 285, giving the Bobcats the final six points of the night.
Before the start of the varsity dual, seniors McCleary, Summers, Hopper, Jake Phillips, James Handke, Zach Holtgrewe, Dalton Inlow and Stephen Struzzo were each recognized in a ceremony.
"All my seniors are great," Cordts said. "They're a great group of kids who are really going to be missed next year. As good of wrestlers as they are, they're even better kids to have around."
Cordts' squad will see Tonganoxie again Saturday at the Baldwin Invitational. The tournament will serve as somewhat of a Class 4A regional preview for both teams, as eight of the 15 teams in their regional field will be on hand.
"This weekend is probably the biggest tournament we'll wrestle this year as far as dealing with (regional) seeds and things like that," Cordts said. "We've got some big momentum and we're coming in with a lot of confidence."
Basehor-Linwood 42, Tonganoxie 20
106 — Cameron Cash (TON) won by default
113 — Open
120 — Corbin Nirshcl (BL) won by default
126 — Jay Willcutt (TON) def. Rylan Hawthorne (BL), 4-2
132 — Clayton Himpel (TON) def. Tucker Rowland (BL), 15-0
138 — Justin Phillips (BL) def. Garrett Martin (TON), 9-6
145 — Josh Summers (BL) pinned Heath Martin (TON), :54
152 — Asher Huseman (TON) def. John Hopper (BL), 8-3
160 — Cory McCleary (BL) pinned Joe Wolf (TON), 3:56
170 — Stephen Struzzo (BL) won by default
182 — Zach Holtgrewe (BL) won by default
195 — Zack Carter (BL) def. Luke Carey (TON), 7-3
220 — Zeke Kissinger (TON) def. Jake Phillips (BL), 7-0
285 — Cullen Povilonous (BL) won by default