Downtown's Burst of Creativity: Bonner Springs's first Festival of the Arts declared a success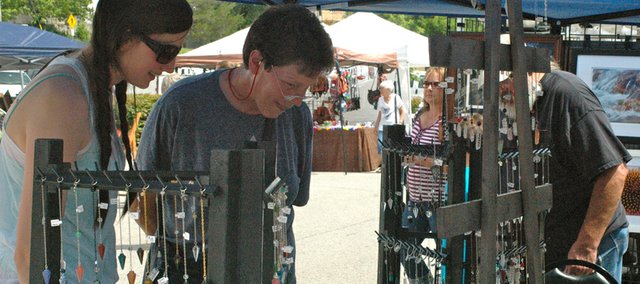 JoAnn Nilges found the perfect item at Saturday's Festival of the Arts.
At a booth for Liberty House Jewelry of Great Bend, which creates items from recycled ammunition, vintage hardware and piano keys, the Bonner Springs resident found a cross with the bottom of a spent bullet shell at its center.
"My necklace has a story, because my son was killed — he was killed by a gun, so this has a lot of meaning to me," she said.
But even before she came across the necklace, Nilges said she was enthusiastic to check out the Bonner Springs Arts Alliance's first-ever Festival of the Arts in Downtown Bonner.
"I think this is great," she said. "I have said for the longest time that Bonner needs to do something on the day they have the fireworks (Bonner Blast) to bring in people, bring some money in."
And all in all, that seemed to be the result of the festival. Mother Nature didn't cooperate entirely — the festival had to shut down almost two hours early due to rain, and about 10 registered artists didn't show up because of rain in the forecast. But for the most part, members of the Bonner Springs Arts Alliance were very happy with their first effort.
"We were very grateful that it was beautiful for most of the day," said Laura Burch, president and founder of the alliance. "Many people stopped by the Bonner Springs Arts Alliance booth and said they enjoyed the festival and hoped it would be an annual event."
In addition to the artist's booths, food vendors and entertainers who wandered Second and Oak streets, entertainment was offered in both Kelly Murphy and Centennial parks. Marcia Harrington, community and economic development director for the city, said she thought the bands in Centennial Park and the performances in Kelly Murphy Park added to the event by offering a broad spectrum of artistic expression.
"I was so pleased with the variety of vendors and the number of people who attended the event," Harrington said. "The vendors I spoke with were pleased with the turnout and said they would like to participate again."
Diane Hofstetter of Leavenworth brought her new line of jewelry and pendants, Sacred Stones, to the festival after finding it through a Google search. She said she didn't know it was the first time the festival had ever been organized; though it was her first time participating in an art festival, she said Bonner's proximity made it a great choice for her.
"It was as easy as it could get, so it was great," Hofstetter said.
The festival also furthered the arts alliance's exposure. Anita Shikles, alliance vice president, said the alliance's booth and her own booth, where she sold her paintings and stone etchings, had a steady stream of visitors all day during the festival.
"There was a number of people who had a real interest in what we were doing as a group, and were requesting information about how to be a part of BSAA," she said.
The alliance gave out some awards as part of the festival. Ribbons were awarded to Trent Freeman for best three-dimensional art and Pamela Peters for best two-dimensional art. Kelly's Craftings won best craft, and Linda Kasselman won the People's Choice award by votes cast at the alliance's booth.
Kristin Paxton, an alliance board member, said that next year, the alliance plans on moving the bands to a more central location. They also are discussing adding a few more days to the duration of the festival and adding to the children's activities.
The alliance also is working on other plans until the next festival. Paxton said they planned to present a mural contest at the Renaissance Festival, and they were planning a 5K art run and walk. Shikles added that they might try to have an indoor art sale in October or November to provide sale opportunities for the Christmas season.