Basehor Lions Club poker run for fun and funds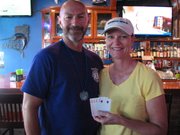 Basehor — Drivers on Highway 24/40 Saturday may not have recognized the group of 15 drivers as a typical motorcycle poker run, but they were there, enjoying the Saturday breeze.
Organized by the Basehor Lions Club and Doug Bittel, the "Aces and Asphalt" charity poker run included several motorcycles but was led by a pair of convertibles and a Dodge Charger as pace cars. The group drove from Bonner Springs to Lawrence and back up Highway 24/40 to Shark's Cove in Basehor.
"It was just really fun," Bittel said. "Hopefully we can get more people out for the next one."
The poker run raised money for the Lions Sight Foundation, which provides eye care and glasses to people without the resources to get proper eye care, and Basehor-Linwood High School senior scholarships.
"If a person asks, they get it, whether it be new glasses or an exam," Bittel said.
The Basehor Lions Club supports the Lions Sight Foundation by recycling glasses and with the support of donors.
Bittel said he hopes to continue organizing poker runs once in the fall and once in the spring, along with a possible poker run in affiliation with Basehor Dairy Days. The Basehor Lions Club is already affiliated with Dairy Days as they usually have a booth at the annual event.
The inaugural winner of this year's poker run was Basehor's Aimee Eickmann. In a poker run, each participant picks a card at random from a deck at each stop. At the fifth stop, the group sees who has the best hand. Eickmann incredibly drew five diamonds to get a flush. The second best hand was a pair of queens.
"I never win anything," Eickmann laughed.
Eickmann, along with the other participants, received a t-shirt, and Eickmann won some gift cards for her poker hand.
The poker run began at 11 a.m. Saturday at Twisters Bar and Grill on Kansas Avenue then travel to Kobes in Bonner Springs, Slow Ride in Lawrence, Helen's Hill Top in Tonganoxie, and ended at Shark's Cove in Basehor. The rally lasted more than three hours and traveled 60 miles. Registration was $30, and all the proceeds went to the Sight Foundation and scholarships.
Bittel said money raised at events like the poker run allow the Basehor Lions Club to offer more aid to families in need of glasses and eye care. Earlier this year, the Linwood Lions CLub was able to host a pre-kindergarten screening event at Linwood Elementary School.
"We would love to do something like that," Bittel said. "It offers people who may not have known that they have a sight issue to get free help."