Bonner native creates environmentally friendly cleaning product line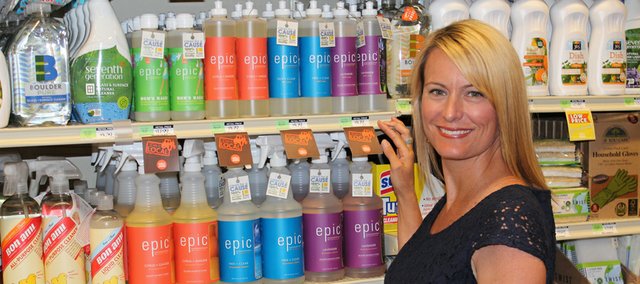 She may be a small-town girl, but Noelle Morris is making moves to create big-time change.
Ten years ago, the Bonner Springs High School graduate and current resident created the EPIC line of environmentally friendly cleaning products for the sole purpose of donating funds to environmental nonprofit organizations. Though circumstances put the line on hold for a few years, Morris has returned to her mission of taking her products nationwide with a first step of selling them in local Whole Foods stores.
And even when she reaches her goal, she won't make a dime for her efforts.
"A lot of people struggle with giving all of the profits away," she said. "It's really a platform to fund environmental education, and if people believe in that then they'll want to buy it. It's not about lining some CEO's pocketbook … You're actually making your dollar go further."
Morris's journey has come full circle in a way, starting in Bonner Springs with stops in Lawrence, San Diego, Washington D.C., and Germany before coming back home to Bonner.
Morris, nee Barger, graduated from BSHS in 1995 and attended Kansas University, earning a degree in biology. She wanted to go into marine biology, so just months after graduating, she moved to California and got a job with the nonprofit San Diego Oceans Foundation.
After just two years, she became the executive director, a position she retained for the next eight years. Running a nonprofit, she found she was constantly raising money along with conducting environmental programs.
In 2005, she was attending the Blue Vision Conference in Washington, DC with about 50 other marine science organizations — all of them saying they couldn't raise the funds necessary for their work.
"It really became sad, but it was an eye-opener because I realized that every nonprofit was struggling like me," Morris said. "Everybody had the same frustrations. We knew we were doing good work, we knew it was valuable, but we didn't know how to fund it."
In her hotel room, Morris said she had an epiphany. She wanted to raise funds for environmental organizations. Livestrong bracelets had just become popular, but she needed something consumable — something people would use up and buy again.
"That month, I was teaching about the harmful effects of cleaning products that have phosphates in them and how that threatened our water," she said. "So I was like, 'Oh, cleaning products!'"
The next morning in the paper provided by her hotel, there was a front page article about Newman's Own, a food brand co-created by actor Paul Newman that donates 100 percent of its profits after taxes and expenses to charity. It further provided a model for her product line, which she decided to call EPIC – Environmental Products for Important Causes, donating all profits to environmental conservation, education and research charities.
It took almost a year to get the line up and running. Morris received help from the Oceans Foundation attorney and accountant; a volunteer there took photos for the labels and marketing; and a friend from KU offered to design the labels.
Morris worked with a "green" chemist for six months to develop the product line of 12 cleaning products, from hand soap and dish soap to furniture polish and carpet and upholstery cleaner. The chemist also helped connect Morris with a manufacturer. She eventually got the products into five or six stores in California.
In 2008, the EPA awarded EPIC Champion Status through its Safer Ingredients Stewardship Initiative.
"You don't want to 'greenwash' people, telling them it's naturally derived when it isn't," Morris said. "So there's not greenwashing here; everything is naturally derived or plant-based."
Morris also never has had anyone take her up on her money-back guarantee.
"The products really do work better than your traditional cleaning products," she said.
But EPIC ran into a hiccup when Morris's husband was transferred to Germany. Luckily, the manufacturer was able to store the EPIC items while Morris was out of the country, but Morris couldn't continue to provide the line for the stores in California.
The family recently moved back to the United States, this time settling in Bonner Springs. Morris was hired as program director for Bridging the Gap, a Kansas City-based environmental nonprofit, and she decided she needed to get EPIC started again.
She approached the Whole Foods Market stores in Johnson County, as Whole Food customers "typically embrace products that support the greater good."
"They loved it, they loved the concept," Morris said. "So we worked out a partnership where all of the profits would stay locally and go to Bridging the Gap."
Danielle Grunz, grocery associate team leader at Whole Foods Market on 119th Street in Overland Park, said that the products give Whole Foods "an opportunity to indirectly support environmental conservation in Kansas City."
"Our customers can help plant trees, restore wild lands and beautify the city just by purchasing a bottle of EPIC," Grunz said.
Morris is promoting EPIC through Bridging the Gap, and she hopes to use this as a case study of cross-marketing with nonprofits to help get EPIC in Whole Foods in other regions, as well as in similar stores like Sprouts and Natural Grocers, and give profits to more environmental charities.
For those who can't make the trip to Whole Foods, EPIC Cleaning Products can also be purchased online at epiccleaningproducts.com.
Morris said she also wanted to make sure EPIC reflected her true roots, so she has changed the city of origin on all its labels from San Diego to Bonner Springs.
After all, she said she credits success so far to the things she first learned in Bonner Springs.
"A lot of people think that when you go to a small-town school that you don't get the type of education you get at a larger school somewhere like Johnson County," she said. "But I want people to know … a little town like Bonner can produce good things."