New Edwardsville restaurant staying busy, getting rave reviews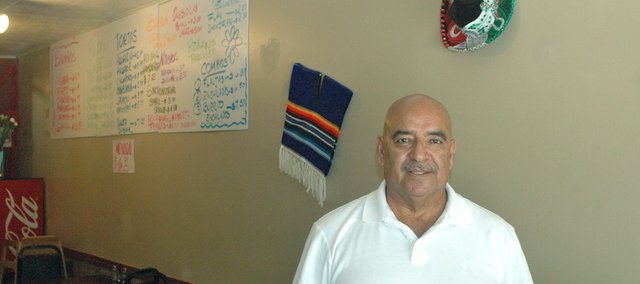 Edwardsville's newest restaurant definitely meets the definition of "Mom and Pop."
Nina's Mexican Food & Desserts, which opened June 23 at 104 S. Fourth St., is owned and operated by husband and wife team Javier and Glafira Contreras of Kansas City, Kan. And so far, they have been getting a lot of good feedback.
"A lot of people have told us 'It's delicious; it's good, good food,'" Javier Contreras said.
A native of Mexico, Contreras has worked in the restaurant industry for 20 years, and the family moved to Kansas City about 13 years ago. He said when they decided to open their own restaurant, they knew there would be too much competition in Kansas City, but they didn't want to go too far from home.
Edwardsville was a good fit because the nearest Mexican restaurant was El Potro in Bonner Springs.
"In Edwardsville, there were no Mexican restaurants, so we can bring the Mexican food to this town, because we are sure that American people will like the food," Contreras said.
And it seems to have been a good choice. Contreras says every day has been busier than the last.
"Every day is busy — we have more business on Saturday, but on Sundays, only in the morning," he said.
The restaurant offers most traditional Mexican dishes familiar to Americans – burritos, tacos, enchiladas, flautas, quesadillas and tostadas, many with the option of asada (beef), ground beef or chicken. But Javier said there are several unique items that won't be found in most other area restaurants, such as a shrimp burrito, Mexican hamburgers, and the Torta Cubana, which is Mexican bread with Mexican sausage, egg, asada, mozzarella cheese, ham, tomatoes, onions and avocado.
"There are few places you can find the Torta Cubana," Contreras said.
The burrito enchilado is also a little different and comes with additional meat options of pastor (crisp, roasted pork), carnitas (tender, shredded pork) or barbacoa (shredded beef). And then there's sincronizadas, sandwiches made with tortillas, and alambres, a mix of meat, bell pepper, onions and cheese that can be placed in tortillas. The "Alambres Hawaiiano" has pineapple in it; the Alambres Mixto includes Mexican cactus.
For the more adventurous, there's the menudo, a sort of soup made with cow's stomach.
"If you taste the menudo, I am sure you'd like it," Contreras said. "But if I said what it is, you'd say 'Uh-uh.'"
Glafira is mostly in charge of the desserts, flan and chocolate flan, but the couple also makes all of their own sauces, the pico de gallo and guacamole, which is made fresh upon the customer's order.
Nina's is open weekdays and Saturdays, 10 a.m. to 8 p.m. and Sundays 10 a.m. to 6 p.m. The restaurant can be reached at 913-422-0878.