Basehor's Holy-Field Winery celebrates 20 years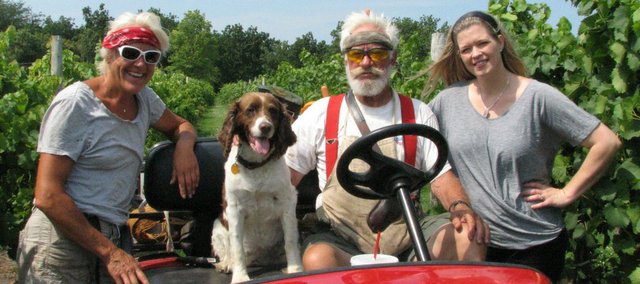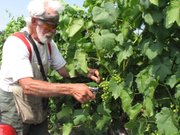 Basehor — When the Meyers were building Holy-Field Winery 20 years ago, many passers-by thought that a steak house was going in on the corner of State Avenue and 158th Street.
Michelle Meyer remembers those days, telling people that, no, they were actually building a winery, one of the first in the Kansas City area. But Michelle and her father, Les, 81, weren't starting just any Midwest winery; they wanted to start something special. And they have, receiving multiple awards for their wines, including three gold medals, five silver and three bronze this month at the Mid-American Wine Competition.
"When we started 20 years ago, people were really skeptical of the quality of Midwest wines, a lot of people just don't associate the Midwest as a wine region," Michelle said.
Les laughed recently about getting a "big head" with Holy-Field's wine reputation. He said when he first entered his Midwestern wines into a Californian competition, he was told that his wines wouldn't win anything. A couple weeks later, he found out that his wines had won double-gold, gold and silver medals.
"I had to get a new hat," Les said.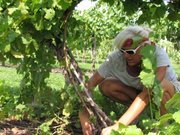 Holy-Field winery has turned Basehor into a wine region for two decades now. The Meyers are continuing other Holy-Field traditions such as hosting murder mystery dinners, as they have for 14 years, and hosting concerts every Friday throughout the summer, which they've done for 12 years. This year also marks the 20th "Picking Days" harvest in which people can visit the winery, pick grapes, taste them and juice them while learning how each Holy-Field wine is made. The harvest days, held in late August and September, turn Michelle and Les's work during the year into the award-winning wines.
"We make sure if a grape is not up to par, it's not going to see a bottle," Michelle said. "Your reputation is in the bottle."
The work is strenuous but Michelle and Les say they love it. The Meyers use French hybrid stocks that can survive the cold months of winter. They require constant attention. Les said he wakes up every morning at 5 a.m. and works for nine to 10 hours. He says he should do more.
He and Michelle must maintain the "canopy" of the vineyard, among a long list of other tasks. They trim away excess leaves so the grapes get sunlight and a breeze, but they must also ensure that the grapes don't get sunburned under too much light.
In winter, they monitor the vines to make sure they survive the deep freezes and snows. Whether it's 97 degrees or 10 degrees below zero, the Meyers can be spotted on their 16 acres of vines everyday. And they are not alone. Patrick Meyer, Michelle's brother, is the "fix it" guy on the farm, Michelle said.
Michelle and Les are usually followed in the vineyard by their faithful dogs, for whom the Meyers name many of their wines. Bacchus is a 16-year-old Springer spaniel who still enjoys rides in the cart as Les or Michelle tend the vines. Vinnie is a 14-year-old Springer spaniel who runs alongside the cart or hops in when he's tired. Sinbad, a 13-year-old black Labrador, and Cooper, a 3-year old Landseer Newfoundland, usually gallop through the fields, pausing at times to nap in the shade.
"It's a family affair," Michelle laughed.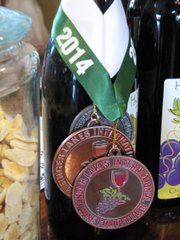 Holy-Field's 10 grape varieties ripen to produce 15 different wines. The Tailgate Red was nominated for the best red wine category in this year's Mid-American Wine Competition held in Iowa, and it won a gold medal along with the Yogi-Berry and the Over The Rainbow Raspberry. The competition was held July 11-13 and included wines from 15 Midwestern states. Professional wine judges from throughout the country awarded 100 gold medals, 171 silver medals, and 132 bronze medals.
"This marks the eighth consecutive year of the MAWC, and we have had the distinction of watching the local wine industry develop into a great representation of our region," said chief judge Doug Frost, of Kansas City, Mo., in a press release. "The wine industry throughout the Midwest has evolved into tourist destinations, where wine enthusiasts visit local wineries. This helps the local economy and area wine industry."
Michelle said she and her staff welcome locals and travelers at their Friday night concerts and Picking Days events. She said she regularly meets people traveling from all across the Midwest to try Holy-Field wines and sees families annually who travel to the vineyard for Picking Days.
"We have families that come every year," Michelle said. "I've seen kids at the first one 20 years ago that were here riding in a buggy and now they come back and they are legal to drink."
Michelle said the vineyard is about as big as it can get for just her and her father to maintain. While the Meyers are looking to continue what they have started in Basehor, Michelle said every year is a welcome new challenge that produces new grapes and new flavors.
"Every year, it's going to be different," Michelle said. "What could be more fun than that?"
Les said he has no plans of slowing down. During 90-degree weather this week, he trimmed back leaves in the vineyard and said, "I'm not as old as I want to get."
"I believe," he said while holding some grapes, "you gotta have something in life that you want to wake up for."