Basehor council denies zoning change for large housing development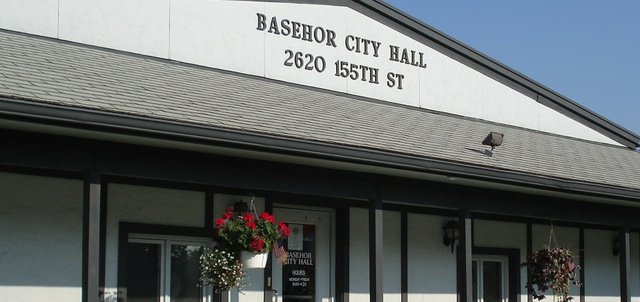 Basehor — Stephanie Harris stood in a room full of her neighbors and pleaded with the Basehor City Council not to approve a zoning change that would potentially allow a large housing development to be built off 166th Street near U.S. 24-40 at Honey Creek Farms.
Harris spoke to the council about Basehor's goals as a city, as outlined in the city's comprehensive plan, and said that allowing a zoning change in her neighborhood would go against the city's self-proclaimed identity. A zoning change was requested earlier by a development company seeking to build 158 multifamily units and seven single-family homes.
"The proposed rezoning is a complete contradiction of what this community is advertised to be, 'A little country near Kansas City,'" Harris said. She then asked the council, "We are not against duplexes or apartments and we are not against rental property, we just don't want it in front of our homes — would you?"
The City Council listened to about a dozen residents of Honey Creek Farms and was presented with a petition signed by 150 of the 152 residents of Honey Creek Farms against the proposed zoning change and housing development. After hearing the residents, as well as presentations from the developers, the board voted 5-0 to deny the zoning change request from commercial to planned residential.
Honey Creek Farms was originally zoned in 2003 to include 48 acres of a planned residential district and 24 acres of a general business district. The existing planned residential district contains 83 single-family lots and 14 two-family lots. The general business district contains 22 vacant commercial lots and Silver Lake Bank, the owner of the business lots, requested the zoning change to planned residential for the development of Honey Creek North, a housing development that would include seven single family homes, 19 two-family homes and 120 multifamily units. The proposal did remain within code guidelines for population density in planned residential areas.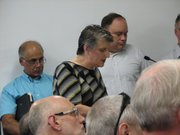 Even so, residents like Catherine Sarenson voiced their concerns over traffic at 166th Street and U.S. 24-40, the only entrance to the Honey Creek Farms subdivision. Sarenson and others also voiced concerns about increased crime in the area and the value of their homes if a large apartment complex was built.
Sarenson said the increase of rental properties under the proposal would have meant the Honey Creek area would be mostly renters rather than homeowners paying property taxes.
"The disproportion of the proposal totally changes the look and feel of our community that we chose to live in," Sarenson said.
The developer's proposal and city's report included a traffic study that stated that the proposed development would reduce traffic by 65 percent during peak morning hours and 80 percent during peak afternoon hours compared to traffic levels if a business were to be developed in the Honey Creek Farms area. Residents argued that significant changes would need to be made to the intersection of 166th Street and U.S. 24-40 to sustain a large housing complex or commercial development.
Residents like James Owen said they chose to move into Honey Creek Farms knowing that the plot of land near them could potentially be developed into smalls businesses, not large housing complexes.
"We always knew there was a potential commercial area north of Pinehurst and we were good with a restaurant or small shops within walking distance of our houses," Owen said.
Mayor David Breuer said that he understood the homeowners' concerns and wouldn't want to have a zoning change approved if he were a homeowner that invested in a particular area because of those zoning restrictions.
"To come in now and change the plan that's already in place, I've got a concern with that," Breuer said.
Council President Travis Miles said that he understood why the developer was targeting this area as a potential residential area.
"Commercially its not going to develop, if it was going to it would have been developed in the last 11 years," Miles said. "Nobody wants to see vacant ground sitting there right next to (U.S.) 24-40 "