Face to Face: Bonner Springs business owner Dennis Smith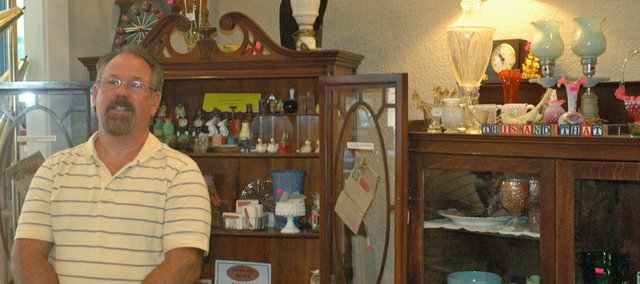 Name: Dennis Smith
Birthplace: Norfolk, Va. Smith's dad was in the Navy when Smith was born, but his parents were both Kansas City-area natives, so they eventually moved back to the area. Smith now lives in Basehor.
Family: Wife, Connie, and four children
Occupation: Co-owner of This and That Antiques and Collectibles in Downtown Bonner Springs
Dream job as a child: Professional baseball player
Service: Before opening his own business, Smith worked for a company that helped found Christmas in October in the Kansas City area, a program that helps those in need repair their homes. So Smith found himself recruited to help on many projects, and after seeing how it helped people first-hand, he said it became something he really looked forward to.
"I was really glad I did it, because so many people need assistance," Smith said.
Digging deeper: Smith's biggest hobby has always been collecting things, and now his hobby is his business.
He said he's not sure where he got the bug to collect, though it may have been in his genes. His grandfather used to take him to a Kansas City, Mo., flea market where they would sell collectible coins. His mother used to collect Depression glass.
Smith started making a business out of collecting things more than 30 years ago, and his obsession at the time was Walt Disney pieces.
"I used to collect just Disney stuff, and it mushroomed into this," he said, motioning to the items in his store at 200 Oak St.
He said he used to travel to California twice a year to take part in Disney collector's trade shows, and he had a booth at an area antique mall for about 30 years before opening his business.
He learned to appreciate antiques and other collectibles that he would find while searching for Disney items, though first he just saw them as a way to make money to support his business.
"I knew there was value to them, so if I could buy it for 75 cents but I knew it was worth $15, I was happy to sell it for $10 to put the money back into (the Disney collection)," he said.