Basehor police department works to find homes for stray dogs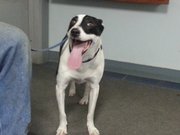 The Basehor police department, with the help of an animal loving officer, has begun a program this year that allows them to more easily find homes for stray dogs and cats found in the city.
Officer Jennifer Bridgman, who volunteers regularly at Bonner Springs Animal Rescue, spearheaded a coordinated effort between local veterinarians and licensed foster homes that allows stray dogs and cats taken in by Basehor police and animal control to more quickly find a home.
"I may only be able to help the stray dogs and cats that we come across, as we don't take in owner surrenders, but when helping these stray dogs, I want to put as much effort as possible into making sure they don't end up in our custody again," Bridgman said."It's just better all around for them and the city."
The Basehor Police Department, Bridgman and animal control officer Donald "Slim" Wilson work with local organizations such as the Leavenworth County Humane Society, Bonner Springs Animal Rescue, Safe Harbor and other area organizations that provide food, veterinary services and foster homes for the animals that are taken in as strays.
Police Chief Lloyd Martley said the city, in its new efforts to help strays find homes, said the new program will save the city money. Keeping an animal in the city's kennels, of which there are only two, costs the city about $75 per day. The city, which is a no-kill animal control facility, will only put down a stray if it is vitally injured or ill.
"We are not a shelter," Martley said. "These are simply animals picked up in our city that don't apparently have a home."
The city is required by law to keep stray animals for at least three days, Martley said, to allow time for the owner to claim the animal before the animal can be put up for adoption. In the past, animals who weren't claimed by owners could stay with the city up to several weeks before being transferred to a foster home or rescue shelter.
Now, the dogs can be placed with a foster parent or adopted within a matter of days.
"This seemed like a good opportunity for us to treat our animals with no cost to the city and to find a good home for them," Martley said.
Together with the organizations in Basehor and Bonner Springs, Bridgman is able to advertise each of the strays brought in. Bridgman said she has receiving great feedback by using Facebook as a means to communicate with potential adopting families. Bridgman often posts pictures and stories to the Basehor Lost and Found Pets and Animal Advocates Facebook page.
"I'm just a huge animal lover," Bridgman said on why she wanted to start helping Basehor's strays.
Currently the city has a female dog and cat up for adoption. The dog, named Sadie, is a black and white mutt who is lovable and excited to see anybody and was found in the Falcon Lakes area, Bridgman said. Through Bridgman's recent social media campaign to get animals adopted, a dog was recently adopted to a family in Colorado.
The city does not charge people an adoption fee for the animals but asks that people make donations to the Leavenworth County Humane Society instead. For more information about the city's adoption program, go to the Basehor Lost Pets and Animal Advocates page or contact Bridgman by email at jbridgman@basehorpolice.org.