Face to Face: Bonner Springs business owner Jason Cruse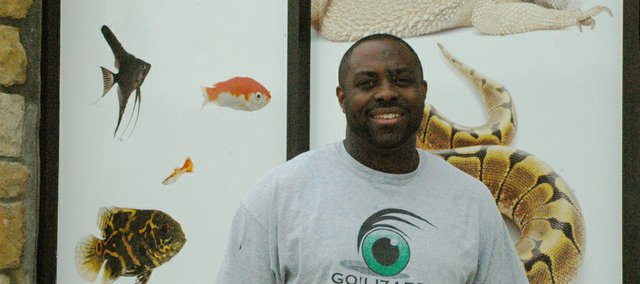 Name: Jason Cruse
Birthplace: Kansas City, Mo., but Cruse now lives in Edwardsville.
Family: Wife, Kelli, and four children, Keyana, Tavian, Deion and Dax
Occupation: Co-owner of Go!Lizards, 220 Cedar St., Bonner Springs
Dream job as a child: An architect — specifically, Cruse said he wanted to design bridges.
"I think bridges are just neat, so it would be something neat to say 'I created that,'" he said.
But ultimately, Cruse got his degree in computer science.
Hobbies: Cruse played basketball in college and continues to play recreationally and teach his children. But like many who own their own business, he said he doesn't have time for much else. The business has especially grown since Go!Lizards added a full-service dog grooming salon, open seven days a week.
Digging deeper: There is one hobby, of sorts, for which Cruse and his family make sure to set aside time: traveling. Cruse has been to seven different countries outside of the United States.
"We like to go to different countries for the ecosystem perspective and to experience different cultures," he said. "It keeps you humble, because you don't realize how good you have it in America until you leave America."
Cruse said an experience in Mexico actually had the biggest impact on him, making him see the differences between American lifestyles and other cultures.
"We went to a part of Mexico that wasn't Americanized, so they didn't have supermarkets," he said. "They did everything by hand … it was actually really eye-opening."
The whole family experiences new countries thanks to cruise vacations.
"We make sure that when we get off on certain stops, we actually go into this country and be there for a day, instead of go to that country and hang out on the beach," he said. "I want to talk to the people, see where they live."
Of course, owning a pet store, they also make sure to interact with the wildlife when possible.
"We hand-fed a howler monkey once, that was cool, and whenever we go places we try to catch snakes and lizards and iguanas," he said.