Kansas City Connection: Broadway Butcher Shop's magnificent meat
Having fresh, high-quality ingredients is essential in the food business, but it takes a flair for creative combinations to really make a place stand out. At the Broadway Butcher Shop on 3828 Broadway, manager Stuart Aldridge has done just that, taking a fairly standard meat counter and turning it into a showcase for a wide variety of meat dishes, sandwiches and salads that customers can enjoy at home or on site.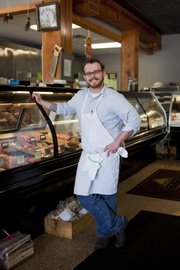 Aldridge, a former sous-chef at the Rieger Hotel, took over the butcher shop last November and has since brought a refreshing eclecticism and playfulness to the operation, offering specials like biscuits and sausage gravy ($6, Saturday and Sunday only), turkey legs (on Sunday, a special for "Game of Thrones" fans) and unconventional treats like duck confit, country pate and octopus pastrami.
Broadway Butcher Shop's sausage, cheese and cold-cut selection is impressive, and those who'd rather not wait to indulge should hit up the daily sandwich menu, which includes the "Ol' Morty" (mortadella, Taleggio cheese and truffled honey), "Ol' Annie" (hot coppa, sweet coppa, hot sopressata, sweet sopressata, pecorino cheese, pickled onions and olives) and a delicious house-smoked barbecue brisket on rye. These sandwiches, served on bread from Sasha Bakery, run about $8, but there's also a three-pound "BFF" (big freakin' sandwich) for $15 that includes more meats and cheeses than I could possibly list here.
The best way to see what Broadway Butcher Shop has in store for the day is to visit its Facebook page or to stop into the store between 10 a.m. and 7 p.m. every day but Tuesday, or between 10 a.m. and 5 p.m. Sunday.
Kemper at the Crossroads
Keeping up with Kansas City's emerging artistic talent can take some effort, but an ongoing exhibition at the Kemper at the Crossroads gallery, 33 W. 19th St., makes it easy to see some of the best new works in the area all in one place.
"The Center is a Moving Target" includes selections from 12 of the area's top up-and-coming artists who live within a 20-mile radius of downtown. Don't miss the large-scale paintings of Ricky Allman and Paul Anthony Smith, the abstract brushwork of Corey Antis, the horn sculptures of Mark Southerland, or the black-and-white photography of Ahram Park. The exhibition can be viewed Fridays from 5 p.m. to 10 p.m. and Saturdays from noon to 5 p.m. through Aug. 1.
Jazzoo
At 7:30 p.m. Friday, the Kansas City Zoo will host its biggest fundraiser and the city's wildest black-tie event. Jazzoo draws about 5,000 guests and volunteers each year, with live entertainment, food from over 65 restaurants and libations served at 10 different bars spread throughout the zoo grounds. Tickets to Jazzoo cost $175 and are on sale at jazzookc.org.
Garden tour
On Saturday, the Wornall/Majors House Museums Garden Tour will allow visitors to tour seven different gardens in different Kansas City neighborhoods, including Leawood, Sunset Hill and Fairway. Tickets for the tour are $30 and may be purchased at wornallhouse.org. The tour runs from 9 a.m. to 4 p.m., rain or shine.
Dog-N-Jog
From 7 a.m. to 10:30 a.m. Sunday, June 8, the Humane Society of Greater Kansas City presents the 27th annual Dog-N-Jog, a fundraiser and owner/dog race benefitting the area's homeless animals. The races begin at the intersection of Central Street and Ward Parkway and wind through the Country Club Plaza.
A 2-mile run begins at 8, a 1-mile run takes place at 8:30, and a 1-mile walk takes place at 9. Register at hsgkc.org by this Saturday ($30) or show up the morning of the event at 7 a.m. for late registration ($40). Meteorologist Gary Lezak and Q104's TJ McEntire will emcee the event.
KC Symphony
The Kansas City Symphony closes its season in dramatic fashion (is there any other way?) with a Michael Stern-conducted performance of Shostakovich's "Symphony No. 5" and Rachmaninoff's "Rhapsody on a Theme of Paganini."
Some of the piano work in Rachmaninoff's variations is so technically demanding that the otherwise abstemious composer was known to indulge in a glass of crem de menthe before performing. No word yet on whether visiting pianist Yuja Wang will do the same. Also included in the program is the world premiere of Chris Rogerson's "A Single Candle," commissioned by the Kansas City Symphony.
Tickets for the 8 p.m. Friday and Saturday performances and the 2 p.m. Sunday matinee are on sale at kcsymphony.org.
— Lucas Wetzel is a writer and editor from Kansas City, Mo. Know of an upcoming event in Kansas City you'd like to see featured in Kansas City Connection? Email us about it at kcconnection@ljworld.com.