Face to Face: Basehor City Engineer Mitch Pleak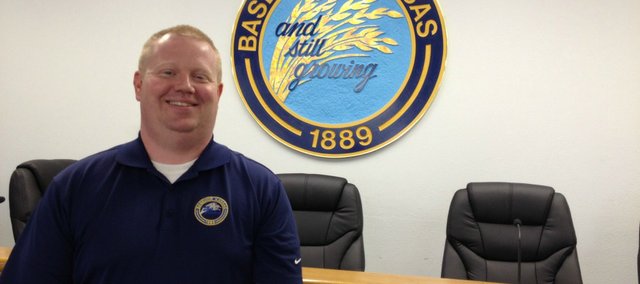 Name: Mitch Pleak
Born: Blair, Nebraska
Family: Wife, Carie, and three-month old daughter Melanie
Occupation: City Engineer
Dream job as a kid: When Pleak was a child growing up in Nebraska, a large ethanol plant was erected in his home town. The massive construction project in his community started the wheels turning in his mind as to how something so big could be built. He was curious how it all worked.
"I was fascinated with the construction," Pleak said. "I was always wondering how stuff worked."
It was always pretty clear what Pleak was good at and what he wanted to do, he said.
"I was a big lego addict," Pleak said, adding that he excelled in math and science.
Digging Deeper: The path leading to Pleak becoming the city engineer in Basehor and moving to Basehor in 2010 was molded by his family and history.
Not only did the ethanol plant inspire him, but Pleak said his maternal grandfather was a self-made mechanic who would teach Pleak some of his ways.
"That's how I probably got the knack for engineering," Pleak said.
Pleak said he would also help his father Charles on his Iowa Farm when his tractors and other things broke. Pleak went on to graduate from Iowa State University with a degree in civil engineering.
He said he has always liked working with his hands and said his current role with the city of Basehor lets him accomplish that, along with his important role behind the scenes in planning fazes.
"I still like to get dirty," Pleak said. "I'm always wearing my work boots."
He said when he's not working on city project's he still works on household machines. Recently took apart and rebuilt his snow blower. Time for side projects has been somewhat limited recently with the birth of his newborn daughter Melanie.
Pleak has been proudly showing off pictures of his daughter to city employees and the city council. For the first month of fatherhood, Pleak said he and his wife hardly got any sleep because of the child's cries. But in the past two months, the crying has settled and he and his wife are beginning to maintain a regular sleep schedule.
"It's been great," Pleak said, with a wide smile.