Welded creations: Local artist joins WyCo Museum exhibit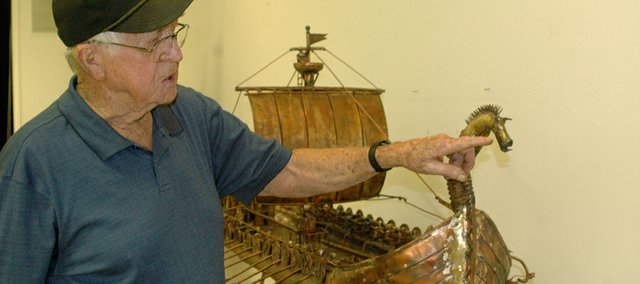 At age 83, Harold Leible is starting to realize that he might be something of an artist.
He has amassed a pretty large collection of metalwork pieces using copper tubing, steel and bronze, resulting from about 50 years of tinkering around in his home metal shop.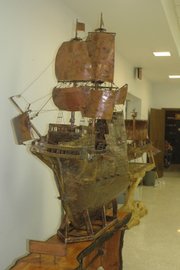 "I'm the kind of guy that can't sit in a chair and relax; I've gotta be doing something," he says.
This month, about 20 of his pieces will be on display at the Wyandotte County Historical Museum; he will be one of two featured artists in an exhibit of several Wyandotte County artists.
Trish Schurkamp, museum director, said Leible's work is interesting because he works in copper, which she says is unusual, and because it's created through welding.
"The idea that he was able to create them using leftover pieces and he creates something useful," she said. "His art is not only art, it's useful art."
A Missouri native, Leible lived most of his life in Kansas City, Kan., and now lives on 178th Street between Basehor and Tonganoxie. Leible served in the Air Force in Korea from 1951 to 1953. He learned how to weld while working at Koch Refrigeration, his first job out of the military. A few years later he began a career in the construction industry, where he continued to use and expand his welding skills.
In the early 1960s, he said he took welding beyond work and really began making things at home.
"I don't go down to the shop and work eight hours a day," Leible says. "I go down there and I might work 30 minutes and get disgusted or mad and quit. The next day, I might go down there and work 14 hours. But I find, when I go down there, if I wasn't interested in working on it, I can do some of the stupidest things you've ever seen in your life."
He says he doesn't really remember how he was first asked to display his pieces at the Basehor Historical Museum about a decade ago, but that led to other displays at the Basehor Community Library, Kansas City Kansas City Hall and now the Wyandotte County Historical Museum.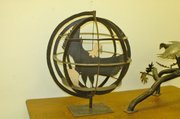 Leible says there's a story behind every one of his pieces on display.
There's his very first artistic welding attempt, a horse and cart that was meant to be an ashtray. Also on display are two elephants he created hoping to placate his daughters when they were young and asking for a horse.
There's his interpretation of a Japanese bell or gong, and a "rocking horse" made of spare farm parts.
When driving into Lawrence, Leible and his wife noticed a business that did metalwork and had a large metal eagle on display. His wife asked him to make her one, which began a whole series of eagle projects — an eagle inside a globe frame was first, followed by eagles on branches or at a nest.
Leible has created some custom projects for friends and sold a few — one of his eagle sculptures sits at Glenwood Ridge Elementary School.
His most recent works — massive ships made from copper tubing — show a whole new level of skill and detail.
Leible saw a picture of the Mayflower and decided to recreate it. He used more than 400 feet of copper tubing to create the six-foot-tall ship, and it took him about a year to complete.
"I don't know why; I guess I just wanted to see if I could make it," he said. "Everything on that thing works. I can shoot you with that long-range gun, with a three-inch ball-bearing. The rudder works; the thing that turns the rudder is part of a D9 Caterpillar water thermostat. It's something else."
There's also a Viking ship replica that's about five feet long and took six months to complete, and his current project is a recreation of Columbus's Santa Maria.
Leible never knows what he's going to take on next; he just knows he'll always be working on something.
"It's getting so gosh darn expensive, I can't hardly go to my shop and play," he says. "But I am going to do it until the day I die, I can tell you that."