Basehor Dairy Days fun not dampened by the rain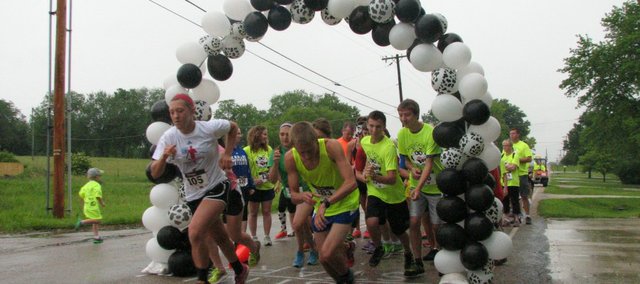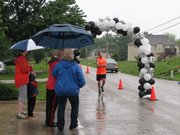 Basehor — Watching the weather radar on Friday, Basehor Dairy Days organizer Lila White could see the long line of rain storms headed her way just in time for Saturday's ninth annual celebration of Basehor's history as a dairy farming community.
So, with just three hours to plan, White and the other volunteer organizers moved the festival indoors to Basehor-Linwood High School. The "mooove," as White called it, came together just in time for another successful festival as hundreds of people enjoyed the games, performances and food at this year's indoor Dairy Days. White thanked everyone involved for making the transition a smooth one.
"We were lucky the school was open and that they were so willing to help," White said. "That's what's nice about our community; we work together. That's what it's all about."
Even though the rain started falling in the hours just before the day's Crazy Cow 5k run at Basehor City Park, about 80 runners turned out to make the first Dairy Days 5k since 2011 a packed affair. Runners younger than 13 and up to 70 years old came out, some in cow-patterned socks and some with small cow masks, and completed the race in the wet conditions. Many of the runners were grateful for the weather.
"I enjoyed it," said Zach Jaskinia, the 5k's overall winner with a time of 19 minutes, 21 seconds. "The rain definitely helped cool you off.
Basehor-Linwood High School graduate Johnny Fulkerson ran in the race and came in second overall to Jaskinia. The race came down to a sprint between the two as they rounded the final turn onto Leavenworth Road. Fulkerson finished just behind Jaskinia with a time of 19 minutes, 28 seconds.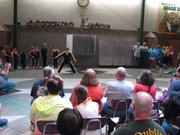 "When I heard they were bringing the 5k back, I thought it would be fun to come out," said Fulkerson, who ran cross country for BLHS and will study next year at Baker University. "It was great to come out here and compete a little bit."
Winners for several age brackets received Crazy Cow 5k medals in a ceremony under a gazebo in city park. The race's organizer, Ashley Razak, also presented medals for best costume to Stephanie Snyder, Kristi Mishejka, Leslie Jones and Andrea Caudillo for their cow socks and masks.
While the runners finished their race, early arrivals to Basehor Dairy Days enjoyed fresh pancakes made by Chris Cakes Pancakes of Louisburg.
Kids were able to practice milking a cow at the Leavenworth County 4-H Club milking station. Erick Jons, 7, of Basehor, tried his hand at the milking station. Jons is the son of local dairy farmer Gary Jons. When asked what it's like to be in a dairy farming family celebrating Basehor Dairy Days, Jons simply, but excitedly, said, "It's cool!"
The only portion of the day dampened by the rain was that the petting zoo and the inflatables could not be set up at the high school. Also, it was too humid to make the fair's popular kettle corn.
"Everything came together," White said during the fair. "Thanks to everyone who made it possible."