Basehor, Bonner residents prepare for 12th Kaw Valley Relay For Life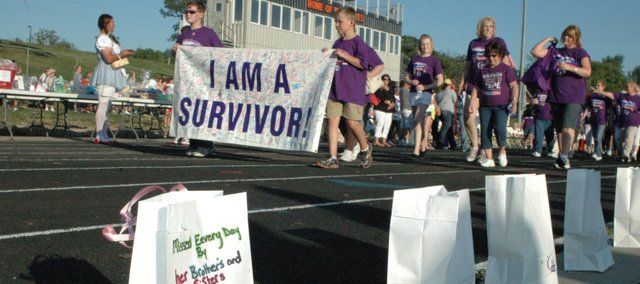 The 12th Annual Kaw Valley Relay For Life is set to begin at 7 p.m. Friday, once again hoping to raise $100,000 or more for the American Cancer Society.
The 12-hour, all-night event will take place at the Bonner Springs High School track and is meant to symbolize the battle with cancer, from the sunset of diagnosis through the dark hours of treatment to the sunrise of defeating the disease. Since it was founded in 2003, the Kaw Valley event has raised about $100,000 or more annually, surpassing the $1 million milestone in its ninth year in 2011.
While the event is designed for teams — who raise funds prior to the relay and are challenged to have at least one member walking the track at all times during the event — there are plenty of activities for individuals who would like to attend and contribute, such as giving donations to the "Queen of the Relay" contestants or buying a luminaria to honor someone with cancer.
The event is meant to bring together members of the Basehor, Bonner Springs, Edwardsville and western Shawnee communities in an effort to raise money for cancer research.
For more information about the relay, visit facebook.com/kawvalleyrelay or relayforlife.org/kawvalleyks. To get involved in next year's event with a team or as a committee member, contact Amie Walter at amie.walter@cancer.org or 816-218-7151.
The following is a schedule of events for this year's relay:
5 p.m.— Registration opens, luminaria sales begin and silent auction opens
5:30 p.m. — Survivor Rally at Bonner Springs High School Cafeteria; Concession stand opens
6 p.m. — Kidz Corner and Bounce Houses open
7 p.m. — Opening Ceremony with Survivor Lap and Caregiver Lap
8:45 p.m. — Messages to Heaven
9 p.m. — Water balloon fight
9:30 p.m. — Frozen T-shirt contest, Kidz Corner closes
9:45 p.m. — Heads or Tails game
10 p.m. — Luminaria Ceremony
11 p.m. — Bra Pong game
11:30 p.m. — Scavenger Hunt with Musical Chairs, concession stand closes
12 a.m. — Egg Toss game; Coffee Bar opens
12:15 a.m. — Pizza Delivery from Simple Simon's
12:30 a.m. — Dizzy Bats game
1 a.m. — Fight Back Ceremony
1:30 a.m. — Glow Lap
2 a.m. — Alligator Wrestling
2:30 a.m. — Trivia
3 a.m. — Dance Along with DJ
3:30 a.m. — Poker Lap
5 a.m. — Sweets at Sunrise
5:30 a.m. — Blowing Game
6:45 a.m. — Closing Ceremony