BLHS

wrestlers get mat time in Colorado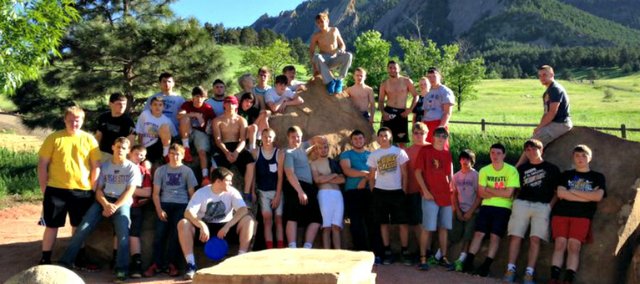 More than a decade ago, Basehor-Linwood wrestling coach Tyler Cordts enjoyed a trip to Colorado as a wrestler at Santa Fe Trail. Last week, Cordts got the chance to relive that experience with his former coach, as well as the BLHS program he now calls his own.
Cordts' Bobcats and SFT coach Regan Erickson's Chargers sent a combined 36 wrestlers to Mountain Range High School in Denver for four days of mat sessions. The teams put in as much as five hours a day with wrestlers from Mountain Range and other area schools.
When they weren't on the mat, they took time to experience some of Colorado's tourist attractions, including a hike in the mountains and a Colorado Rockies game.
"That's huge to have that bond," said Cordts, who wrestled for Erickson before graduating from SFT in 2005 — back when the Chargers were members of the Kaw Valley League. "Whenever we're on the road together and in close quarters in the van, all that time together can really strengthen the bonds and the friendships. It's such a positive experience for everybody. We get to see the kids in a different aspect and they get to see us in a different aspect."
Erickson and Mountain Range coach Todd Sandman were roommates when they wrestled collegiately at the University of Southern Colorado — now Colorado State University-Pueblo. When Cordts was in junior high, Erickson took a group to a different Colorado school where Sandman coached. Last week gave Cordts and Erickson an opportunity to recreate that trip nearly 15 years later.
In addition to the chance to bond with teammates, the trip provided 17 Bobcat wrestlers with several hours of live competition against opponents from other schools. That could pay dividends for a squad looking to replace eight seniors and four of its five state qualifiers from a year ago.
"Our expectations are so high, and we keep pushing," Cordts said. "We want every kid to be involved as much as possible, and this is a great way to reiterate that and get everybody back on the mat."