Spring sports in review: Record-breaking track season highlights
BLHS

lineup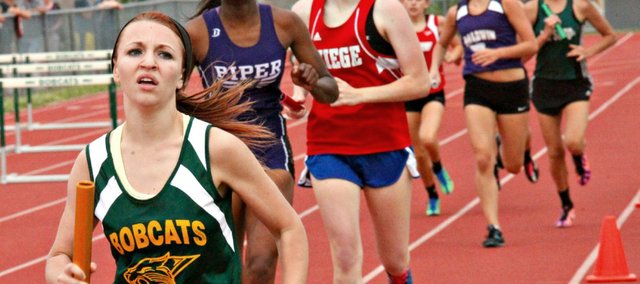 With the 2014 track and field season in the rear view mirror, Basehor-Linwood's record book is in need of quite the makeover.
Six program records fell in recent months — many at the hands of underclassmen — as BLHS cruised through arguably its most successful seasons in school history.
Junior Quinnlyn Walcott wasted little time leaving her mark in program history, as she broke the 3,200-meter and 2,000-meter steeplechase at the Bobcats' very first meet on April 4. Just one week later, she added a record in the 1,600-meter run at the Bobcat Relays. She further solidified her title as, as cross country coach Jeff Venema put it, "the greatest distance runner in Basehor-Linwood history," by setting new marks in all three events at least one more time each. She later ran at state in the 1,600 and 3,200.
Additionally, Walcott teamed up with Rebecca Carroll, Ryann Smith and Jaime Weible to break the school's 4x800-meter relay record. They originally broke the record at the Kansas Relays, then set it again two more times. Their final mark of 10:09.14 at regionals — a state-qualifying time — crushed the previous record by more than 18 seconds.
Other Bobcats to break individual records in 2014 were Johnny Fulkerson (steeplechase), Sierra Smith (triple jump), Katey Trower (javelin) and Madison Howard and Allison Heinen (pole vault).
Sierra Smith was at her best at the end of the season, medaling individually in the long jump and triple jump. She also helped teammates Katelyn Hickman, Marriah Clayton and Trower medal in the 4x100 relay.
The Bobcats seem poised to make even more noise in the near future. Coach Scott Russell returns a plethora of talent next spring, including nearly every record-breaker and state qualifier.
Softball
Armed with three college signees and a roster full of returning starters, the BLHS softball team reeled off a 12-2 Kaw Valley League record, clinching its third league championship in four seasons.
The Bobcats pounded out 29 hits in a sweep of Lansing to close the regular season, but had to wait more than a week for regional play to begin at the Field of Dreams Complex. After a 12-5 drubbing of rival Tonganoxie in the first round, they stumbled in the finals against Piper — a team they split with earlier in the season. BLHS fell in a 5-0 hole and saw its dreams of a return to state dashed in a 9-4 loss. They finished at 17-5.
Five players earned All-Kaw Valley League recognition, including three first-team selections in seniors Katie Lackner (outfield) and Candice Jennings (infield) and junior Madison McDowell (pitcher). Senior infielder Allison Kasick second-team selection in the infield, while fellow senior Kayleigh Schoenfelder and junior Gaby Brown were honorable mentions at infielder and catcher, respectively.
McDowell headlines a long list of seasoned veterans back in 2015, when the Bobcats will try to maintain their league dominance and make another push for a trip to Salina.
Baseball
One run separated the Bobcats from a state berth in coach Jeff Vestal's first season, as the Bobcats dropped a 2-1, nine-inning game to Tonganoxie in a regional championship game.
Consistency was an issue for the Bobcats (9-13) throughout the 2014 campaign. After a 4-2 start, they dropped five of their next six, but later showed signs of life with a fourth-place finish at the Butch Foster Memorial Classic. They split with Lansing to end the regular season, then defeated Atchison in their regional opener to give themselves a shot at state.
BLHS rode the pitching of seniors Avery Fliger and Andrew Magana throughout the season. Fliger, who went the distance in the regional final, was an All-KVL second-team pick, while Magana was an honorable mention.
Sophomore Jake Hahn and junior Ashton Findley will be back to lead the Bobcats after earning all-league honorable mentions at infielder and designated hitter, respectively. Vestal must replace Fliger and Magana on the mound, as well as starters Bryan Crowe, Dalton Inlow and Abe Ruffcorn.
Girls soccer
BLHS ended its season with a 4-12 record, but first-year coach Erik Jones said he saw his squad start to "turn the corner" late in the season.
The Bobcats' run ended with a 3-0 loss to Tonganoxie in their regional opener, but just a week before, they dropped a 7-0 loss to the Chieftains. Even in that short time span, Jones said players grew and learned to fight through early adversity.
Jones loses six seniors, including All-KVL second-team defender Hailey Robinson, but several underclassmen picked up their first full year of varsity experience in 2014. Among those returning next year is Brianne Kennedy, a two-year starter at goalkeeper.
Boys golf
Parity was the theme of the Bobcat's 2014 golf season, as a different golfer led the team at nearly every tournament. There wasn't much separation throughout the season, as the entire field often finished within 10 strokes of each other.
Coach Bruce Courtney must only replace senior Bret Fritz next season, as several underclassmen competed at the varsity level all spring. Arguably the best individual performance of the season came May 12 at the Kaw Valley League tournament, where sophomore Ryan Potter placed 10th individually with a score of 82.
Other regular starters back in 2015 are Jack Walsh, Landon Fliger, Tyler Kendrick and Johnny Harms. Hunter Fotovich also gained marginal varsity experience.