Bobcat football kicks off Stallbaumer era with camp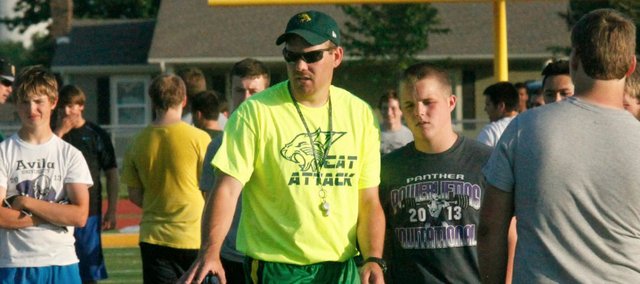 The Rod Stallbaumer era is officially underway at Basehor-Linwood.
The new Bobcat football coach officially took the reins of the program earlier this week when BLHS kicked off a team camp at the high school field. About 80 players took to the field for five days of instruction from their new coach, marking the first step of preparations for the 2014 season.
"Other than film, this is the first we've had a chance to see them," said Stallbaumer, who spent the last seven seasons at Class 2-1A Lyndon. "I was pleased. Their attitude and effort have been great. They've got a lot to learn, but they seem pretty excited about learning it. As long as that continues, we'll get there."
Stallbaumer inherits a team that went 3-6 last season under 10-year coach Steve Hopkins. The Bobcats lost 16 players to graduation last year, many of them at skill positions. Among members of the 2014 class were starting quarterback and leading rusher Tim Sanders, leading receiver Dalton Inlow and leading tackler Cory McCleary.
Most of the team's returning experience is on the offensive and defensive lines, where Stallbaumer has looked for extra guidance in the early phases of the summer.
"We need our senior linemen to step up and bring those guys along," he said. "That's where our leadership is right now is on our line, so we need those guys to help ease the transition."
Coaches broke players into groups by class at this week's camp and spent the week installing the team's base offense, defense and special teams packages. Stallbaumer said the team will run different schemes than it has in recent years, so each varsity spot is currently up for grabs.
Following camp, coaches gave players individual things to work on throughout the remainder of the offseason. Stallbaumer said some players have also requested additional drills to do on their own time.
In addition to on-the-field work, Stallbaumer has emphasized the importance of getting in the weight room in the months leading up to the season. Before coming to Basehor, he helped engineer a successful powerlifting program at Lyndon.
BLHS lifting coach Ross Schwisow is also back on the football staff, so weight room attendance has been under close watch.
"It's definitely important and definitely stressed," Stallbaumer said. "They're still high school kids, so there are still some stragglers who are catching on, but by and large, the attendance has been excellent."
Camp wrapped up Thursday, but players will have plenty more opportunities to make their cases for varsity spots. Coaches will take 40 players to a three-day contact camp next week at Benedictine College in Atchison, where they'll get field time against teams like Topeka-Hayden, Blue Valley Northwest and Hiawatha.
"We should get some good reps against some pretty good teams," Stallbaumer said. "It's good development-wise to get in there and get roughly the equivalent of two games' worth of experience. Some of those mistakes you see in the first couple weeks of the season, hopefully we'll get those behind us now."
Additionally, the Bobcats will host 7-on-7 camps each Monday this month. The rotating team field includes 15 schools from across the Kansas City area, including nearly every member of the Kaw Valley League. Camps were supposed to start this week, but were canceled because of inclement weather. Stallbaumer said coaches are working to find a makeup date.