Art festival set to take over downtown Bonner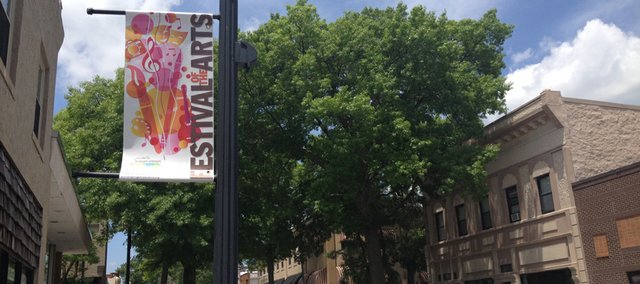 The inaugural Festival of the Arts in Downtown Bonner Springs seeks to be much more than your typical art festival.
"We will have a huge variety of events," said Laura Burch, founder and president of the Bonner Springs Arts Alliance. "There's a lot of festivals that just have arts and crafts and some music. We will have all sorts of activities."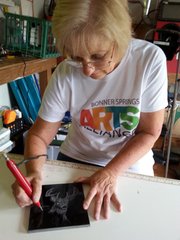 The alliance is promoting food, circus acts, a "Creative Corner" of activities for children and the young at heart, magicians, art demonstrations and performances for the festival, set from 9 a.m. to 6 p.m. June 28 with free admission. And because that is the same day as the Bonner Springs City Band's patriotic concert and the Bonner Blast fireworks display, it will be a whole day of fun for visitors.
"We hope that it will be a real community event, but also we want to draw in people from other areas of the metro," Burch said.
To that end, they have been promoting the festival via social media and by handing out fliers at other area art festivals. They have involved other organizations such as the Wyandotte County Art Association, PEO, Kansas City Art Institute International, Bonner Springs High School art students and New Century Club members.
The festival has space for 70 arts and crafts booths, which will be on Oak Street from Front Street to Third Street and on Second Street between Cedar and Oak, as well as in the Centennial Park parking lot. While many of the booth spaces have already been taken, alliance members said they will take registrations for remaining spots up until the day before the festival.
Kristin Paxton, marketing and promotion chair for the alliance, said the arts would be represented in every medium from acrylic painters to ceramic sculptors.
"Our fine crafters range from jewelers crafting art from ammo to silk printed fiber artists," she said. "Our handmade crafts range from plush handmade stuffed animals to wooden furniture."
Food trucks will all be located on Second Street southwest of Oak. Local bands including the Lonnie Ray Band, Press Play and S'mores will play in Centennial Park, while the bandstand in Kelly Murphy Park will feature performances by a dance troupe, the Kansas City Community Orchestra and a magician.
Also in Kelly Murphy Park will be the Creative Corner. Jamie Rempel, events coordinator for the alliance, said the area will include a face painter, a balloon artist and group art projects like a weaving wall and mural.
Rempel said she is trying to include child-friendly activities that will reflect the wide variety of arts found elsewhere at the festival.
"It's going to be awesome," Rempel said. "It's not going to be Tiblow Days — we want to have a lot of fine arts there and grow from that."
The alliance also will offer a special activity that is a continuation of their Art Abandonment project, in which small pieces of artwork are left in public places for anyone to find.
The day of the festival, the activity will be more of a treasure hunt. A map with clues will be available at the alliance's booth at Oak and Second streets, and those who find the hidden markers can bring them back to receive different art or art-related items.
Downtown businesses also are getting involved and will have items on the sidewalks or will offer specials. Flip KC will have booths with its vendors of vintage furniture and other crafts on Third Street between Oak and Elm.
In the case of inclement weather, the festival will move to Bonner Springs High School.
With all that is going on in the downtown area, the alliance members say they plan to have volunteers available to direct people to parking.
Alliance members say it's not too late to get involved. For more information or updates about the festival, visit bonnerspringsartsalliance.org.