Bobcats poised to be more balanced than in past years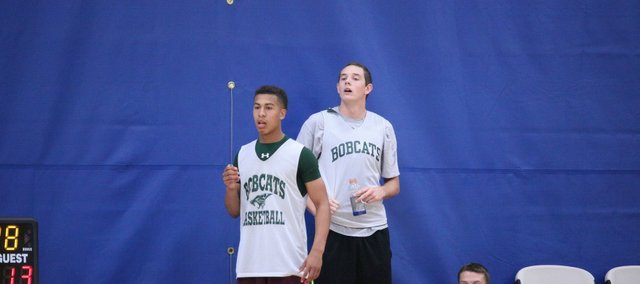 Basehor-Linwood boys basketball coach Mike McBride has a problem he hasn't dealt with since 2012: balance.
That year's squad went on to win the Class 4A state title.
Unlike last year's team, which relied heavily on the three-ball, this year's team can play inside and out.
Despite the loss of Chase Younger and Zach McNabb, McBride said the Bobcats would play inside more with All-Kaw Valley League first teamer Pat Muldoon returning.
"We have a more balanced game," McBride said. "We had games where we hit 10, 12, 13 threes. We can still shoot it. It's just a matter of now it's these guys' turn. It's been more balanced than in the past. We can go inside-out. You have to box us out. You can't just focus on the guards."
Jahron McPherson will play a larger role than he has in the past two years as he'll most likely be a starter than one of the first players off the bench.
McBride expects him to take care of the ball as much as possible, but sees BLHS going point guard by committee.
"He's had two games where he's had over 25 points against very good teams," McBride said. "It's amazing as things change how kids step up and they start getting better. He's had a very good summer so far."
He said it's very similar to 2012 as BLHS didn't necessarily have a point guard or post player.
But he isn't the only one as the Bobcats have enjoyed team success. They played seven games in three days in the KAMO Hoops Shootout falling in the quarterfinals to eventual mid-varsity division champion Rockhurst 39-33.
McBride also likes where the team is at in terms of development. He said they listen, work hard and they want to learn.
In preparation for the tournament, BLHS worked on toughness and chemistry. with the guards, since it's a new crop.
"We're fast, we're athletic, we can shoot the ball," McBride said. "Measuring stick right now is you play all the big schools you can find and they're going to put you through extreme tests. For the most part we passed. We got better over the last seven games."
Notes
McBride expects Jack Dale, who transferred to BLHS from Tonganoxie High, to compete for a starting position down the road, but sees him as the best sixth man in the area if the season began today.
McBride said he's sat back and tired to fit in. In the last three or four games of the tournament, he started showing his own. McBride said he's starting to figure out what the Bobcats do.
"He's going to give us good defense," McBride said. "That's a hard question right now. We probably have about eight kids that can start at any time. I've never had that in my 17 years of coaching."
Balance is a good problem to have.