Basehor's Textur Salon styling a reputation into community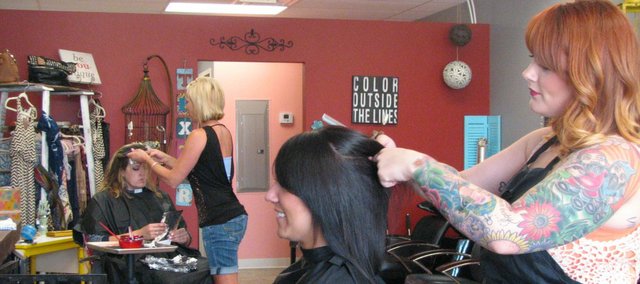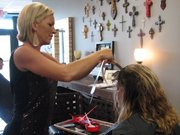 Basehor — Amy Miller spotted the place where she and co-owner Mallorie Zule would launch their first salon just one month before opening Textür Salon in Basehor.
Miller was driving on State Avenue, looking for an enticing location for the salon when she saw the vacant lot off Pinehurst Drive next to Snap Fitness. Miller and Zule had been talking about opening their own salon and both agreed before finding the exact location that Basehor would be their business' home.
"It just worked out perfectly," Miller said. "I told her, 'You won't believe what I found,' and here we are."
Zule lives in Atchison and was previously working in a salon in Bonner Springs. Miller was working in the salon that her mother began in 1985 in Desoto. Both were ready to embark on their own journeys by opening their own salon.
"It was a happy medium from where we both were and Basehor is just growing so fast," Zule said.
Both stylists have years of experience in the field, but they both do much more than cut, trim and color hair.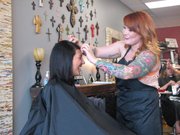 Liz Biggers has been following Miller for years and was in Textür Salon this week seeing Miller at the new location. Biggers said that Miller is more than a stylist — more like a trusted friend.
"Everyone that comes in, she treats them like she has known them for years," Biggers said. "I wouldn't go to anyone else."
Biggers drives to Basehor from Olathe just for Miller.
Zule, originally from Tonganoxie, said she too has a loyal following of customers and that is why the two stylists thought starting their own salon would be successful. Zule also said their new location just off the heavily travelled Highway 24/40 is bringing in new clientele from around Basehor, Tonganoxie and other areas.
"When you own your own salon, it makes a huge difference with how you can help people," Zule said. "We want everyone to feel welcome when they walk in here."
Textür Salon also carries boutique clothing and jewelry from Shabby Britches Boutique of Basehor. Textür is open Monday through Friday, 10 a.m. to 8 p.m., and Saturday from 10 a.m. to 2 p.m. Miller said they are only taking customers by appointment but decided to extend their hours to Saturday morning to accommodate the growing number of local clients.
Miller and Zule say they plan on hosting some community events in the future such as a "Ladies Night" to further get to know the community. The Basehor Chamber of Commerce plans to celebrate the new business with a ribbon cutting on June 27.
More information about the salon can be found on their Facebook page.