Bonner Relay For Life looking to rebound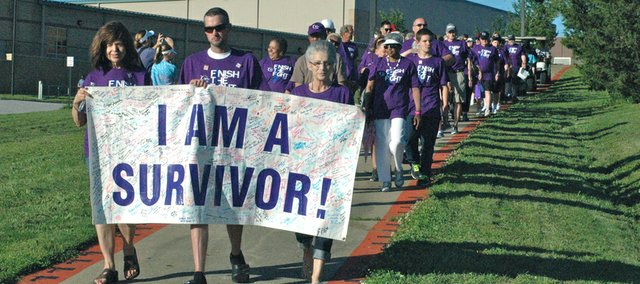 In the opening hours of the 12th annual Kaw Valley Relay For Life, those familiar with the event might have noticed a slightly smaller crowd than usual.
Denny Hubbel, Bonner Springs Fire Chief and a member of the organizational committee for the relay, said that with fewer volunteers and teams this year, he had been concerned attendance at the annual fundraiser for the American Cancer Society would be even lower.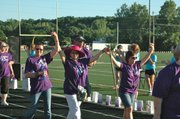 "This is actually more people than I expected," he said.
It was one of many indicators that this year's event at the Bonner Springs High School track lacked some of the luster that it has had in the past decade. One big factor in this year's smaller numbers — for the first time since the Kaw Valley Relay was founded in 2003, no one volunteered to be the chair of the organizational committee.
"We just didn't get a volunteer to step up," said Amie Walter, a Relay For Life Specialist with the American Cancer Society who stepped in to serve as chair. She said the longtime volunteers just didn't have the time this year. "They've had a lot of volunteers that have been volunteering all 12 years."
The event when founded was intended to draw from Basehor as well as Bonner Springs, Edwardsville and western Shawnee, but Walter said very few if any participants were from Basehor this year.
This year's event had 31 teams; normally it averages 40 and has had a high of 45. It raised $52,000, which is nothing to sneeze at, but less than it has most recently. In its first year, the relay raised $70,000, and later years averaged more than $100,000 — it had raised $1 million total in its ninth year. But that certainly doesn't mean that it can be successful in perpetuity.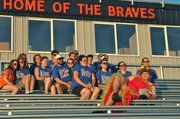 "It's wonderful that we got as much as we did without a leader living and working in the community," Walter said. "Every dollar counts, no matter how little or how many."
Having a community member to lead the event is a key, and Walter said while the organizing committee has been dedicated in the first decade of the event's lifetime, chairing the event is a big commitment to take on year after year.
So next year, organizers are hoping for some additional support.
"We could use some fresh, new faces to meld in with our wealth of experience," Walter said. "A little new energy helps with the excitement for everybody."
After all, cancer is not going away. Treatments have improved and more people are surviving, but cancer remains the second most common cause of death in the US, accounting for nearly one of every four deaths. In 2014, there will be an estimated 1,665,540 new cancer cases diagnosed and 585,720 cancer deaths in the United States.
"The reason we're there is not because we've found the solution," Walter said of the relay events.
Walter hopes that much of the lag is due to the economy.
"I would say Relay in general, across the country, is feeling the recession that we're not quite out of yet, and nonprofits overall have seen that in their contributions this year," she said.
Taking part in the Relay's organizing committee means a meeting or two in the fall and about six months of heavier commitment in the spring.
"Even if you haven't relayed before, we could use your help," Walter said. "Not every position is required to work that hard for that long, so there are lots of options."
To learn about getting involved in next year's relay, contact Walter at 816-218-7151 or amie.walter@cancer.org, or visit facebook.com/kawvalleyrelay or relayforlife.org/kawvalleyks.