Basehor-Linwood hosts Sen. Hensley discussion on education funding, economy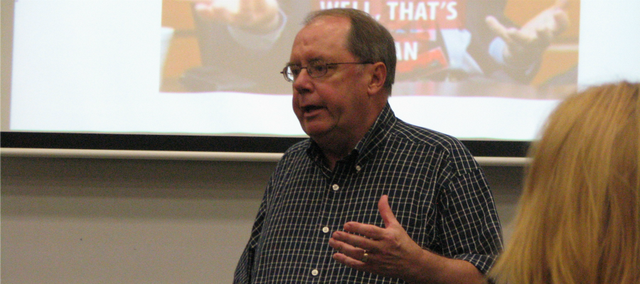 Basehor — Teachers, school administrators and other members of the Basehor education community sat down with Democratic Sen. Anthony Hensley on Wednesday to discuss the recent school finance decisions and the economic state of Kansas.
Hensley represents the 19th District, which includes portions of Douglas, Osage and Shawnee Counties, in the state Senate and has done so for 22 years. This past week, he visited schools in Tonganoxie, Bonner Springs and Basehor to discuss the policies affecting local school districts.
"It's an educational process from my perspective," Hensley said at Basehor-Linwood High School after speaking to local educators. "I want them to understand where I am coming from."
Hensley outlined his message of "education on the brink" by saying that unconstitutionally low education funding combined with the revenue shortages in the state could mean more cuts to education budget, which makes up a little more than half the state budget.
Hensley used figures from the past two decades of Base State Aid Per Pupil and the amount the state distributes per student. He said current state aid is up just $252 from the 1992 level of $3,600.
"With inflation, that number should have increased to over $6,000 per pupil," Hensley said.
From 2005-2009, state aid per pupil did increase to over $4,000 in large part because of a special legislative session called in in 2005 by then Gov. Kathleen Sebelius which resulted in a $750 million investment in K-12 education. Hensley said the dedication of that state money to education is an example of what the state needs to continue to do.
"The more we can rely on funding at the state level, the less we have to rely on local property taxes," Hensley said.
The recent decision in the school finance lawsuit Gannon v. the State of Kansas and the legislative decision to equalize local option budgets (LOB) with capital outlay have minimized the risk of increasing local property taxes to support public education.
Basehor-Linwood Superintendent David Howard said at Wednesday's meeting that if the equalization had not occurred, the Basehor-Linwood district potentially was looking at 3 additional mills added to property taxes. But now, with a fully funded LOB and capital outlay budget, the local LOB and mill level could go down, Howard said.
Hensley insisted that the base state aid per pupil system is not dysfunctional, as many of his counterparts have suggested, but that it needs repair after years of cuts under Gov. Sam Brownback.
"The formula is not broken," Hensley said, "it just need to be funded properly."
Hensley pointed out the recent decision by the Shawnee District Court to decline to dismiss the Gannon case because, as Hensley said, "they don't trust the state to keep this up."
Hensley said that underlying the school finance debate is the downturn in the Kansas economy due to Brownback's tax cuts. State revenue in April dropped $93 million under projections, and May was worse — a $217 million fall. Gov. Sam Brownback and his key aides have said the two-month drop of $310 million below estimates was due to a temporary problem caused by federal tax issues and that revenues will recover. Hensley said the drop off has nothing to do with federal tax issues but with the lack of income tax revenue being brought in. Hensley said Kansas cannot expect to operate as Texas has under this plan and Hensley said he thinks the state may begin the next fiscal year, this July, with a deficit. Hensley said the deficit is a result of "irresponsible and reckless tax policy."
"Our state's tax revue is like a stool that stands on three legs, income, property and sales tax," Hensley said. "What Brownback wants to do is cut off one of the legs."
Hensley also discussed teacher due process rights and said the method for removing due process rights at this year's legislative session was done so unconstitutionally.
When asked by teachers and parents how they can help the situation, Hensley said that people should vote for legislators who understand education and economics and who understand the situation Kansas is in.
"I think we're going to have to come to grips with reality pretty quick," Hensley said.