New downtown Bonner shop joins vintage decor trend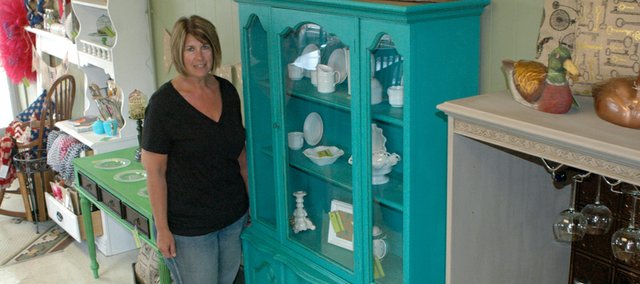 Kathy McBride says she is excited to join the growing number of vintage renovation businesses in the downtown area of Bonner Springs.
"I think Bonner's got that neat little hometown, eclectic vibe to it that I really like," said McBride, co-owner of Garland Taylor Home, 201 Oak St. "And everybody has been super friendly and supportive as we've gotten off the ground in the past few months. That's just been amazing to experience."
McBride and her mother, Bonner Springs resident Mary Clark, opened the new shop June 5 to offer refurbished furniture and other décor. She said they first began the business out of her home about seven months beforehand. McBride was doing some home remodeling and started refurbishing some furniture for herself.
"Some friends and family members saw those and started asking if I could do some pieces for them," McBride said. "So we started doing that, and things just kind of continued to snowball into getting some vendor spaces at a couple of different establishments."
Learning the techniques needed to refurbish the furniture was not difficult for the mother-daughter duo.
"We've always been a fairly crafty, homespun kind of family anyway and have done things for years, back when arts and craft festivals were popular," McBride said.
Clark and McBride took advantage of Flip KC up the street at 300 Oak St. for one vendor spot, as well as selling items from a business near their hometown in southeast Kansas. Like the owners of Flip, McBride enjoyed visiting the vintage chic vendors in the West Bottoms area of Kansas City, Mo., but couldn't always make it to their "first Fridays" and wished there was something similar on the Kansas side.
By this spring, McBride and Clark decided maybe it was time to get a space of their own. Clark gets her hair done at Skyler Hollenback's barber shop and knew his space next door was available.
"We just kind of decided to take that leap of faith and give it a shot," McBride said.
To name their business, they decided to pay tribute to a family member who they think gave them their flair for design: Clark's grandmother.
"She had a beautiful Victorian home in southeast Kansas," McBride said. "Her house was just an amazing place, full of lots of beautiful pieces of furniture. She took a lot of pride in her home.
"So a lot of the pieces here that we find to redo and the colors that we use are kind of inspired by the things we grew up with and her flair for decorating in her home."
Everything in the store is something refurbished or hand crafted in some way. McBride said they have several family members who also are artisans and will create items for the store. For example, Clark's nephew, Nicholas K. Clark, a professional artist in Kansas City, Mo., has some paintings in the shop.
"And then we sprinkle in a few vintage décor items just to tie it all together," McBride said.
McBride says they plan to work with customers, if they have a piece of furniture they would like to have refurbished, and they also have a few "unfinished" pieces in the store to allow customers to pick their own paint colors.
McBride says all of the paint she uses is environmentally friendly — either chalk paint or a milk-based paint — and she would like to offer a line of paints in the store in the fall and some instructional classes on refurbishing furniture.
With hours from 3 to 8 p.m. Thursdays for the summer, McBride says they hope to cater to the Thursday night City Band Concert crowds. They also are open 10 a.m. – 6 p.m. Fridays and 10 a.m. – 5 p.m. Saturdays.
McBride said she looks forward to this weekend's Festival of the Arts and August's Tiblow Days to help people get to know the business.
"There's just a lot of great community things that I think encourage people to shop local and support small businesses," she said.