Ag Hall gears up for Tractor Daze, Touch-A-Truck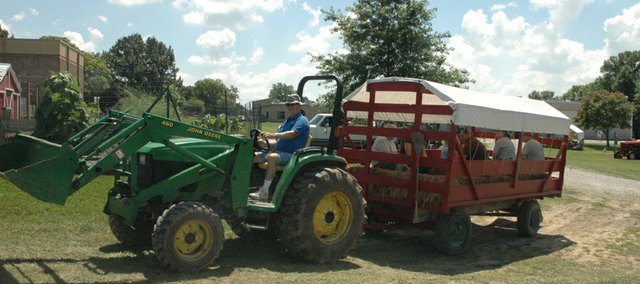 A chance to experience life on the farm will return July 12 with the National Agricultural Center and Hall of Fame's Tractor Daze & Touch-A-Truck event.
Though the Ag Hall has been closed to general daily admission this season, the annual festival that offers a variety of farm-related activities, a large touch-a-truck area and a mud run will return from 9 a.m. to 4 p.m. July 12 at the Ag Hall, 630 N. 126th St.
Jody Albers, president of the board of directors, said visitors at this year's event won't notice any changes from the Tractor Daze of the past few years.
"It's very similar to our event that we've had in the last several years. We keep getting bigger and better with this event, so we just model it after the previous year's event," Albers said. "Last year was the largest attendance we've ever had for Tractor Daze, so we hope we can do better than that."
With the help of co-sponsor the Wyandotte County Farm Bureau, Tractor Daze will include living history, blacksmith, cow-milking and plowing demonstrations, a petting zoo, Shriners clowns and mini fire wagon rides as well as hayrides and miniature train rides. Concessions will be available on the Ag Hall grounds.
The Touch-A-Truck area will include big equipment and trucks from construction to military vehicles.
And of course, there are the tractor activities: Kiddie Pedal Pulls at 11 a.m. and 3 p.m., a tractor "Parade of Power" at noon, a garden tractor pull at 1 p.m. and tractor games at 2 p.m., all organized by the Kansas City 2 Cylinder Club and Antique Caterpillar Club. The clubs also will have a swap meet for their members on Saturday, which is not open to the general public.
Kansas CHIP, a children's identification service, also will be at the event. The Mud Run will begin at 4 p.m.
Admission for Ag Hall events is $6 for adults, $4 for ages 4 to 16; and free for children 3 and under. But admission for both the Tractor Daze and Mud Run events, or for just the Mud Run event, is $10 for adults and $5 for children.
While the Ag Hall hasn't been continually open to promote Tractor Daze, Albers wasn't worried that anyone would forget about this annual event.
"We have a lot of people who have called and inquired about it, and we're blasting (information) out to everybody like we normally have done," she said.
The Ag Hall also plans to continue to host annual events the Show 'N Shine Truck & Car Show July 26 and the International Lineman's Rodeo Oct. 18.
Albers said she hopes to see a lot of new faces this year along with returning visitors.
"It's a great combination of agriculture, education, and the visual aspects that are here. It's a great family fun day event," she said. "We have people every year who repeatedly come back just for this event because they've got little kids who love to see the big trucks."
Sponsorships are still available for the event, and volunteers also are needed. Those interested can email info@aghalloffame.com or call 913-721-1075.