Nirschl caps off perfect season with state title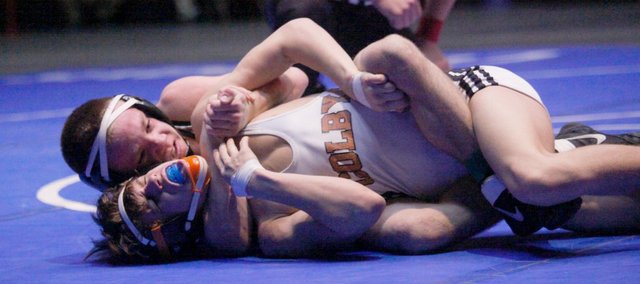 Salina — Add another accolade to Corbin Nirschl's short-but-storied high school wrestling career.
The Basehor-Linwood freshman finished the first perfect season in school history Saturday with a 106-pound state title. He sealed the deal with an 18-7 drubbing of Colby's Tate Carney in the final to close out a 31-0 campaign.
"Under the bright lights for the first time, some would think he had some pressure on him, but to come out like he did was just incredible," BLHS coach Tyler Cordts said. "He just kicked it up a notch when some people might panic. Winning 18-7 in the state finals, that's domination."
Nirschl, one of five Bobcats to wrestle at state, became the school's third state champ. He joined former champs Matt Dukes (145 pounds in 2002, and Symon Seaton (125 pounds in 2010).
A triple-crown youth state champion last summer, Nirschl entered his first high school season with plenty of fanfare across the state. The nation took watch when he defeated Matthew Schmitt of Platte County (Mo.) — then ranked No. 6 nationally — in the finals of the Bobcat Classic on Jan. 18.
Nirschl dominated the rest of the way, including a 4-0 state performance that included one pin and two major-decision victories. He ended the season ranked No. 17 nationally by InterMat Wrestling.
"He didn't just win the state title this year," Cordts said. "He proved, without a shadow of a doubt, he's the man at 106."
With a two more triple-crown youth champs coming in next year in current eighth-graders Jonny Trowbridge and Cody Phippen, as well as a handful of returning veterans from this year's squad, Cordts said there's plenty of excitement surrounding the program.
Nirschl couldn't be reached for comment before The Chieftain's print deadline on Wednesday.
Four Bobcat seniors also made the trip to Salina, but failed to medal. Dalton Inlow (138), Josh Summers (145), John Hopper (152) and Cory McCleary (160) each qualified for state by finishing in the top four of their respective weight classes at regionals.
Inlow and Summers were eliminated after going 0-2 on Friday. Hopper and McCleary went 1-1, giving themselves a chance to medal in Saturday's consolation action, but both were eliminated when they were pinned in their opening matches on the second day of competition.
It was the first state tournament appearance for Inlow and Summers, the second for Hopper and the third for McCleary.
"Those kids put in some great time," Cordts said. "They wrestled a lot for us and came a long way in the last four years, and (the state experience) is something nobody can take away from them."
As a team, the Bobcats finished 23rd with 32 points. Holton repeated as team champ with a score of 114 points — 38 more than runner-up Chanute.