Basehor library to host science discussion series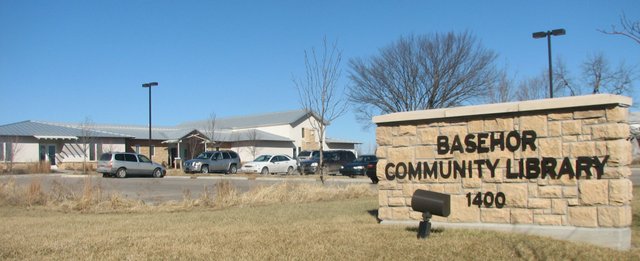 Basehor — A federal grant aimed at increasing scientific discussion in rural parts of the country was awarded to the Basehor Community Library in February and will fund two months of free community events.
Pushing the Limits, science discussion series
Connections
Tuesday, Mar. 11, 6 p.m.
Lisa Lund, Technology coordinator at USD 458
Video: Roxanne, Swentzell, a Native American artist, mother and home builder connects time-honored traditions to future generations.
Knowledge
Tuesday, Mar. 18, 6 p.m.
Raven Naramore, caterer and nutritionist at The Merc in Lawrence.
Video: South Carolina's Sean Brock cooks classic souther cuisine by cooking like a scientist, using modern technologies and a deep love and knowledge of cooking.
Nature
Thursday, Apr. 24, 6 p.m.
Kristin Rhoads, BLHS Chemistry and Physics teacher.
Video: Human nature, how is it defined? How technologies are pushing the limits of what it means to be human.
Survival
Tuesday, Apr. 29, 6 p.m.
Rex Buchanon, Director of the Kansas Geological Survey.
Video: The Shrum farming family pushes its limits to survive as farmers.
All events include a light dinner. For more information, contact the Basehor Community Library at (913) 724-2828.
Basehor Community Library was one of just 75 libraries around the country, and the only one in Kansas, to receive the $2,500 grant from the National Science Foundation. The National Science Foundation created the "Pushing the Limits" grant two years ago to increase dialogue about how science affects everyone's daily lives.
"We're really thrilled about getting it," said Basehor Community Library director Diana Weaver. "We want people to come in and talk about their experience with technology and science in their lives."
The library will host four events in March and April focused on the topics of connections, knowledge, nature and survival. Each topic is accompanied by a recommended book and features a guest speaker and video presentation. Each discussion will take place at the library at 6 p.m., and light dinner will also be served free-of-charge at each event.
Lisa Lund, technology coordinator for the Basehor-Linwood School District, will speak first at the March 11 connections discussion, and BLHS chemistry teacher Kristin Rhoads will speak at the April 24 nature discussion. The library is also welcoming Raven Naramore from Lawrence's The Merc Co-op to discuss the history of what we eat and new ways people are cooking on March 18. Finally, the library will host the director of the Kansas Geological Survey, Rex Buchanon, to discuss survival, such as water rights issues and droughts facing Kansas and other parts of the country, on April 29.
Weaver said reading the recommended books for each topic is not a requirement but simply an extra way to benefit from the discussions.
"These are all topics that will deal with science in our everyday lives, real science," Weaver said.
Weaver said some money from the grant left over after the science discussion will go to future science education at the library, such as a summer science reading theme for kids.
For more information about the upcoming events, contact the Basehor Community Library at 913-724-2828. Space is limited and registration is required. To register, visit basehorlibrary.org.