Basehor seniors compete in pancake race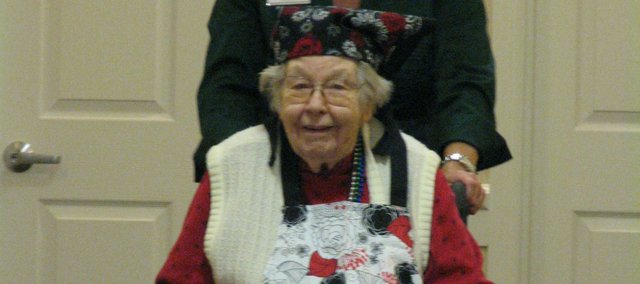 Basehor — International Pancake Day is more than just a day to enjoy the fluffy batter and all of its fixings -- it's a day to race.
That's how Basehor's Country Place Living Center celebrated the day, at least, along with the business' other senior living centers in Kansas and Texas. The International Pancake Day Race was inspired by the annual race between people in Olney, England, and residents of Liberal, Kansas.
On Tuesday, four residents of the Basehor senior living center raced down a hallway in a relay in which they had to pass along a head scarf, an apron and a pan with a pancake in it. Two of the residents, Kay Mastro and Albert Hubert, said after that the event was fun and they hoped their time would stand up against other teams'. Hubert, whose son Ron Hubert also competed, said they should get extra points for their race, which ended in a time of 49.5 seconds.
"We didn't drop our pancake," Hubert said proudly.
In Olney, the pancake race tradition dates back more than 500 years to 1445. The legend says, according to the International Pancake Day Race website, that a woman engrossed in using up cooking fats (forbidden during Lent) was making pancakes when she heard the church bells ring, calling everyone to service. She grabbed her head scarf (required in church) and ran to the church, skillet and pancake in hand and still apron-clad. In following years, neighbors got into the act and it became a race to see who could reach the church first and collect a "Kiss of Peace" from the verger (bell-ringer), according to the website.
The race in Liberal began in 1950, and the two towns have competed for the fastest pancake race runner since.
The Country Place Living Center event is not a competition with the two cities but rather an internal showdown for the right to a pancake feast prepared by the living center's corporate staff.