BLHS

lifters sweep state titles in Abilene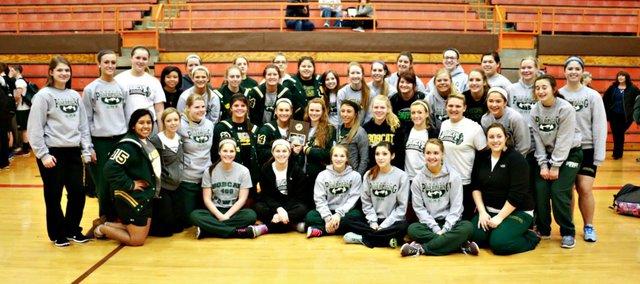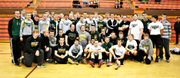 Another year, another pair of state titles for the Basehor-Linwood powerlifting program.
The Bobcats continued their run of dominance Saturday, sweeping the overall team titles at the Class 4A state meet in Abilene. The girls easily captured their seventh straight title with 121 points, while the boys won their fifth straight with 74.
The girls have now gone undefeated for seven years in a row. They've won every tournament since taking third at state in 2007 — their first year of competition. They were particularly dominant at this year's state meet, winning a program record seven individual titles and beating out second-place finisher Royal Valley by 80 points.
"Probably the most surprising thing was winning seven of 10 weight classes," coach Ross Schwisow said. "The competition is getting higher, so for us to do that says a lot about the quality of the kids who are lifting."
Cassandra Beattie, Britney Smith, Courtney Norris, Sierra Smith, Katey Trower, Cassie Tucker and Kara Kollars won their respective weight classes. Beattie broke the state record with a 140-pound hang clean, Norris set a new mark with a 18-pound hang clean and Trower broke a record with a 160-pound bench press.
Beattie and Norris also received Lifter of the Meet honors after posting the highest power ratings in their weight classes.
Schwisow said all seven individual winners are underclassmen, so there's plenty of optimism for the 2014-15 season.
"They take the team concept really seriously," he said. "They really do take it to heart."
The boys beat runners-up Buhler and Clay Center by 34 points, but the teams were close in the standings until the later weight classes. BLHS got individual titles from Dean Cochran (173 pounds) and Bret Fritz (heavyweight).
Top-three finishes by Jake Phillips (220) and Jay O'Bryan (242) also played a big role in the final team standings, Schwisow said.
"It was tighter than it looks," he said. "Those late classes are pretty significant because there are so many competitors. We had a couple seniors that stepped up. It's just like a track meet, so those are big points."
Fritz brought the heavyweight hang clean record back to BLHS with a lift of 345 pounds. The record was once held by former Bobcat Ethan Douglas, but was had since been broken by a lifter at another school.
This year's state meet included 495 lifters, making it the largest meet in 4A state history. Schwisow said the field will likely be larger than that of the 5A or 6A meets, which have not yet taken place.
Girls results
Overall team scores
Basehor-Linwood, 121; 2. Royal Valley, 41; 3. McPherson, 39; 4. Tonganoxie, 17; 5. Clearwater, 11; 6. Larned, 10; T7. De Soto, 9; T7. Pratt, 9; T9. Towanda-Circle, 8; T9. Coffeyville-Field Kindley, 8, T9. Wamego, 8; 12. Abilene, 6; 13. Clay Center, 5; T14. Augusta, 2; T14. Buhler, 2; 16. Eudora, 1.
BLHS individual results
Lifters of the Meet: Cassandra Beattie, Courtney Norris.
First place overall: Cassandra Beattie (435), Britney Smith (480), Courtney Norris (565), Sierra Smith (525), Katey Trower (600), Cassie Tucker (540), Kara Kollars (535).
Second place overall: Hanna Dickey (380), Katie Tindell (450), Jamie Weible (455), Courtney Robinson (495).
Third place overall: Julie Lough (365), Sara Rehm (420), Abby Lee (480), Jamilee Malinowski (505).
Boys results
Overall team scores
Basehor-Linwood, 74; T2. Buhler, 40; T2. Clay Center, 40; 4. Tonganoxie, 38; 5. Paola, 27; 6. Chapman, 26; 7. Royal Valley, 22; 8. Clearwater, 20; T9. Eudora, 16; T9. Larned, 16; T9. Pratt, 16; 12. Columbus, 12; 13. Abilene, 11; T14. Hugoton, 10; T14. Piper, 10; T14. Wamego, 10; 17. St. James Academy, 7; 18. Wellington, 3; T19. Coffeyville-Field Kindley, 2; T19. McPherson, 2; 21. Augusta, 1.
BLHS individual results
First place overall: Dean Cochran (960), Bret Fritz (1,110).
Second place overall: Jacob Cook (555), Eric Purrington (745), Jake Phillips (1,025).
Third place overall: Austin Sinclair (725), Austin Ettinger (790), Jay O'Bryan (1,020).