Bonner's New Century Club looks to step into 21st century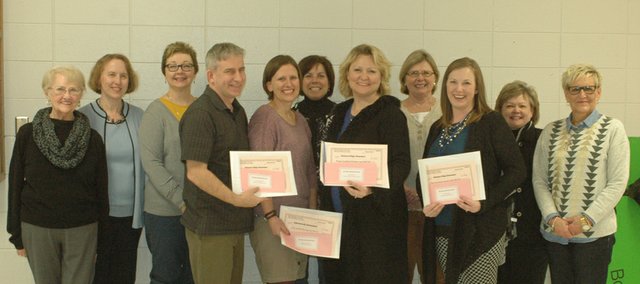 A service organization unique to Bonner Springs and more than 100 years old is making an effort to remind the community that it is still here and ready to help.
The New Century Club is looking to increase its visibility, especially promoting its support of local arts education programs.
"I'll have to look up and see if the New Century Club domain is taken," Sarah Hiss, the club's current president, commented. "We should probably get into the 'new' century; this was started in 1902, so that was the new century back then."
Last week, the club awarded seven School Arts Grants totaling $1,500 to teachers in Bonner Springs-Edwardsville USD 204 and Basehor-Linwood USD 458. They have been awarding their grants since 1998, giving out a total of $13,040, but they want to make sure that area teachers are aware of the grants.
"As you get teacher turnover, I don't think people know that we're out here, and don't think to come to us," Hiss said. "We do send out a letter, but I wonder if they think 'I don't know what this is' and toss it."
The club handed out the most School Arts Grants ever for the 16-year-old program this year with seven; last year, they awarded just three for a total of $1,027, and previously they've awarded no more than four.
The club was founded in 1902, when woman would get together to discuss world events, support various community organizations like the Red Cross, write letters to legislators and members of Congress, and had geography quizzes.
"It was kind of like educational and social when they started the club," Karen Baxter, who is leads the art grands committee, said.
The club evolved to have a greater focus on the arts, often hosting art shows, though they continued to do other activities, like blood drives, for the community. In more recent years, they donated the sculpture located behind the Bonner Springs Community Center, sold notecards featuring artwork of local artists, and sponsored artists at the Bonner Springs City Library.
In addition to the grants, the club has been providing scholarships for fine arts students in Bonner Springs and Basehor since 1995 and has given a total of $12,525.
"With all the budget cuts the fine arts programs art what suffers the most, so we're really interested in supporting the kids," Baxter said.
Currently, the club also collects teddy bears to donate to the police department to give to children in crisis, and they raise funds with a poinsettia sale over the holidays and a geranium sale in the spring. They meet monthly October through May and have 18 members, including one, Frances Haynes, who has been a member since 1959.
The club is, in fact, in the process of creating a Facebook page so that interested community members have an easy means of contacting the club. Hiss said once the page is established, she hopes that it will be found by searching for "Bonner Springs New Century Club."