Art in memoriam: Edwardsville ceramics artist specializes in urns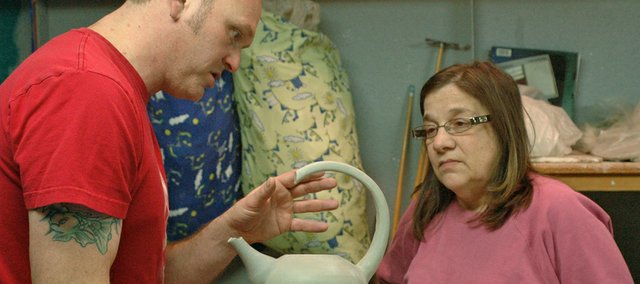 When ceramics artist Trent Freeman creates a custom piece, you might expect there is extra pressure to please his client.
That's because not only is the piece meant to represent the life of his client, it also serves as their final resting place.
The Edwardsville artist has found an interesting specialization for his work at his in-home studio, creating urns to house cremated remains. In addition to teaching ceramics art classes and workshops, he said he decided to focus on the area after a couple of his art clients asked him to make urns, and he warmed to the idea that a custom urn can tell the story of someone's life much better than a cemetery plot and headstone.
"You're making this for someone based on someone; that's the part of it I like," he said. "The whole thing started with the idea that after about three generations, no one goes to the cemetery. In a situation like this, most of the time, people keep the urns. That, sitting somewhere, it becomes more like an heirloom.
"Yes, there's somebody in there, but the idea is someone down the line will say 'What is that?' and then there is a story: who we are, where we came from, what we are."
Freeman graduated from Emporia State University with a degree in Fine Arts in 1995. It didn't take him long to begin a career as a professional artist. He said he loved traveling to shows and having gallery showings, but that required frequent travelling and a lot of work.
"They teach you this stuff when you're in school, and then you get out and you just want to make stuff in your studio and have people buy it," he said. "You realize you've got to get your feelers out into all kinds of things just to get your art out there."
He found he enjoyed educating and instructing others, facilitating workshops at colleges and instructing at the Carnegie Arts Center in Leavenworth. As far as selling his work, he said, he became somewhat known for his wall fountains.
"But once the economy went to crap, it became really difficult," he said. "Art is expendable income, and the market shrank so much."
That's when he began to look at creating urns. Freeman makes a limited selection of urns ready-to-buy, if the urn is needed immediately, but he prefers to customize the urns for his clients. He especially enjoys meeting with those who have decided to be cremated and want a custom urn, as they tend to give him greater trust as an artist — getting a feeling for a person from surviving relatives at times can be difficult, he said.
"It's nice if you get together with people beforehand, and then they can talk about themselves," Freeman said. "When someone dies and someone comes to you and says 'I need you to make one for my husband,' ... I have to have the liberty to put it together without too much input; I can't let them dictate the art."
He's had to learn some morbid facts — for example, he advises on his website that a cremation urn should be 1 cubic inch for every pound of body weight. He's also learned how to seal cremated remains in his urns, to give the option of doing it himself or having the crematory do it.
Freeman usually creates urns with two sections; one for remains, which is sealed, and one to remain open, a storage area for letters, photos and other mementos related to the person encased within.
Freeman also continues to work as an instructor, teaching classes of no more than three students at a time from his home studio for the past five years.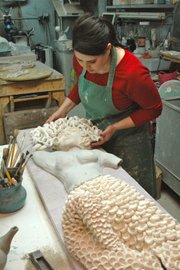 He has proven himself an effective teacher — his Wednesday night class includes four students who have been with him for eight years. One, Mary Thompson, said she wasn't planning to stick with ceramics when she signed up for a six-week class with Freeman.
"I didn't know if I'd make it through, but then he made you feel good, like, 'Maybe I can really do this,'" she said. "You'd do something, and he would say, 'That's good, that's good.' He never had a bad thing (to say); you always felt confident even in his correction."
Freeman said he has found a great balance for continuing as an artist and maintaining an income between his students and his urn business.
"I get to have a lot of ideas going around," he said. "(Teaching) keeps you fresh, because when people are wanting to learn stuff, you've got to (think), 'Well, how would you do that?'"
More information on Freeman can be found at tefreemanstudio.com.