Smith powers
BLHS

girls past Atchison
Bobcats will play Piper for trip to state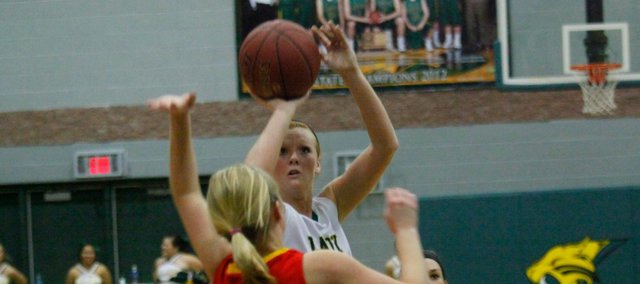 From the opening tip, Basehor-Linwood's Class 4A-1 semifinal game against Atchison evolved into a battle of Smith vs. Smith. The Smith in green and gold won the battle, and the Bobcats won the war.
Powered by a career-high 33 points from Victoria Smith, BLHS used a dominant second half to pull away in a 62-42 win Thursday against Atchison. With the win, the Bobcats (14-7) advanced to Saturday's sub-state final, where they'll face Piper.
BLHS led by just four at halftime, thanks to 21 first-half points by Atchison's Arika Smith, but started to gain some separation in the third quarter. The Bobcats limited AHS (12-9) to just five points in the period and opened up a double-digit lead by the start of the fourth, 46-36.
Each team scored just two points in the first 4:45 of the fourth, then Victoria Smith and Marriah Clayton converted on conventional three-point plays to give BLHS a 16-point lead. Atchison never mounted a comeback attempt, as the lead grew to 20 in the final seconds.
Arika Smith paced Atchison with 28 points, but managed just one field goal after the break. She went 15-of-20 from the free throw line, but only had four attempts in the second half.
"She's been to the free throw line probably the most of any player in the state of Kansas this year," coach Jason Tatkenhorst said. "Getting to the free throw line gave her confidence, and her jump shots started going, so it was a struggle in the first half.
"We felt like we had a game plan, and we knew that's what she was going to do. We couldn't get stops in the first half, but in the second half, we finally got stops. That's how you win games."
Victoria Smith did most of her damage in the paint and wasted little time getting to work. She scored 10 of the team's 11 first-quarter points and went into the break with 19. She didn't slow down after intermission, and she secured the first 30-point game of her career with her three-point play with 3:15 remaining.
"I wouldn't be able to do that without (my teammates)," Victoria Smith said. "They have to have the timing to be able to do that, so I'm thankful for that."
Neither team led by more than four at any point before the break. Atchison took its largest lead at 22-18 midway through the second quarter, but BLHS didn't allow its opponent to gain any more separation. The Bobcats scored the final five points of the half to take a four-point halftime lead.
Victoria Smith and Arika Smith were the only players to reach double figures. Clayton and Madison McDowell added nine and eight points for the Bobcats, respectively.
BLHS will be back on its home floor at 6 p.m. Saturday, when it will take on Piper for a trip to next week's state tournament in Salina. The Pirates swept two regular season meetings with Bobcats, winning 58-51 on Feb. 10 in Kansas City, Kan., and 67-46 on Feb. 25 in Basehor.
"We're where we want to be, and now we've got to take advantage of it on Saturday," Tatkenhorst said. "(Piper) played really well and we made them look really good the last time we played them. We've got to come to the gym ready to get stops against them."
Piper reached Saturday's final with a 63-47 semifinal win Thursday against Tonganoxie.
Score by quarters
Atchison 8 23 5 6 — 42
Basehor-Linwood 11 24 11 16 — 62
Individual scoring
ATCHISON — Arika Smith 6-13 15-20 28, Ashton Ettleman 2-4 2-2 6, Laurene Cushinberry 3-7 0-0 6, Makenzie Dougherty 1-2 0-0 2.
BASEHOR-LINWOOD — Victoria Smith 11-15 11-13 33, Marriah Clayton 3-4 3-3 9, Madison McDowell 3-3 1-3 8, Sarah Ford 2-6 0-0 6, Alex Gorman 1-6 0-0 3, Jenna Mussett 1-1 0-0 2, Ryann Smith 0-1 1-3 1.